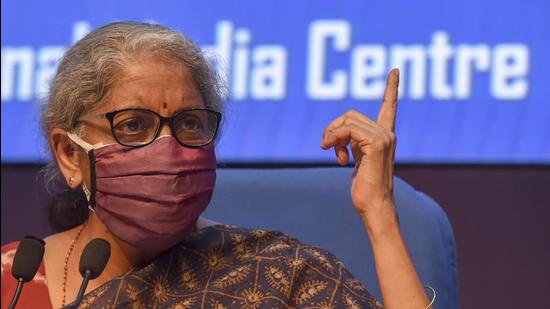 Centre sets up 8-member panel to consider GST waiver for Covid essentials
Union finance minister Nirmala Sitharaman had earlier said GST exemption on the end product alone would distort the input tax credit system across the value chain, and eventually cost more for the consumer.
By HT Correspondent
, Hindustan Times, New Delhi
UPDATED ON MAY 29, 2021 08:57 PM IST
The government on Saturday constituted an eight-member ministerial panel under the Meghalaya chief minister Conrad K Sangma to consider Goods and Services Tax (GST) exemptions on a range of Covid-19 essentials such as vaccines, drugs, testing kits and ventilators.
The other members of the group of ministers (GoM) are Gujarat deputy chief minister Nitinbhai Patel, Maharashtra deputy chief minister Ajit Pawar, Goa transport minister Mauvin Godinho, Kerala finance minister KN Balagopal, Odisha finance minister Niranjan Pujari, Telangana finance minister T Harish Rao and UP finance minister Suresh Kumar Khanna.
The GoM will submit its recommendations to the GST Council on or before June 8, the Union finance ministry said in a statement. After a protracted discussion on the issue of tax exemption at the GST Council meeting on Friday, the apex federal body decided to form a committee to examine the merit of tax waiver on individual items.
According to its terms of reference, the GoM will examine the need for GST concession or exemption on Covid vaccines, drugs and medicines for Covid treatment, testing kits for Covid detection, medical grade oxygen, pulse oximeters, hand sanitisers, oxygen therapy instruments (concentrators, generators and ventilators), PPE kits, N95 masks, surgical masks, temperature checking thermometers and any other items required for Covid relief.
While vaccines and cotton masks attract 5% GST, most of these items fall in the 12% tax slab. Testing kits, drugs, medical oxygen, oxygen concentrators and ventilators fall under the 12% tax bracket. Alcohol-based sanitizers, hand wash, disinfectants and thermometers attract 18% GST.
The GoM was constituted after several states such as West Bengal and Punjab asked for exempting all Covid-essential materials from GST. West Bengal finance minister Amit Mitra on May 25 reiterated chief minister Mamata Banerjee's demand for removing GST on medicines and equipment essential for the treatment of Covid-19 patients. Earlier on May 9, the West Bengal chief minister wrote to Prime Minister Narendra Modi to seek exemption of Covid-relief materials from GST.
Reacting to the letter, finance minister Nirmala Sitharaman had then said that GST exemption on the end product alone would distort the input tax credit system across the value chain, and eventually cost more for the consumer.
"If full exemption from GST were given, domestic producers of these items would be unable to offset taxes paid on their inputs and input services and would pass these on to the end consumers by increasing their price," she said in a tweet on May 9.
Ritesh Kanodia, partner at consultancy firm Dhruva Advisors LLP said: "The issue of whether or not vaccines should be included in the exemption list has also to be seen from the perspective of whether granting the exemption will result in the passing of any effective benefit to the end consumer."
Close