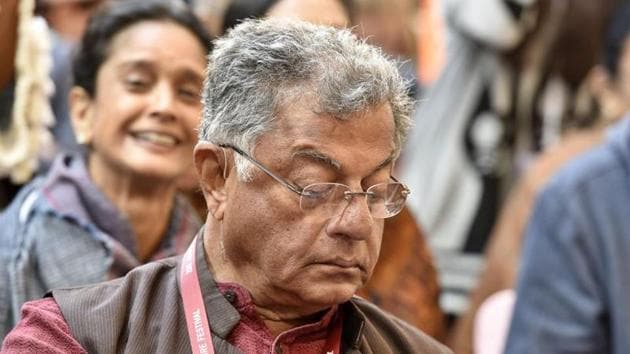 Advocate files complaint against Girish Karnad for supporting 'Urban Naxals'
Karnad had sported a placard that read "Me too Urban Naxal" at a memorial event on Lankesh's first death anniversary on Wednesday
UPDATED ON SEP 07, 2018 07:29 PM IST
An advocate on Friday filed a complaint against noted playwright Girish Karnad for sporting an 'Urban Naxal' placard at an event to mark the death anniversary of slain journalist Gauri Lankesh on Wednesday.
Karnad had sported a placard that read "Me too Urban Naxal" at a memorial event on Lankesh's first death anniversary on Wednesday. The placard was a statement of support to the academics and activists recently charged by the Pune police for allegedly being "Urban Naxals".
Advocate NP Amrutesh, who practices at the Karnataka High Court said in his complaint that he was shocked to see such open support for violent groups from litterateurs. "In the programme the 'so-called' renowned writer had proudly put the placard on his neck calling himself as Naxalite is shocking to me that a [Jnanpith] Awardee is active in Naxalite movement, which is banned under the Unlawful Activities Prevention Act," he said in the written complaint.
Amrutesh who is part of the legal team representing some of those arrested in connection with the murder of Lankesh, also said in his complaint that "Urban Naxalists are those who spread insurgency against the nation".
Amrutesh asked the police to investigate Karnad's connections with Naxals. "Also interrogate him about his involvement in Bhima Koregaon offence," he said.
Karnad refused to comment on the complaint and would wait for the investigation to be completed. "It is his democratic right to make a complaint and I will not comment against that. Let us see what the police does next," he said.
Meanwhile, D Devraja, Deputy Commissioner of Police – Central Sub-division, said the complaint had been made in the Vidhana Soudha police station and had been transferred to the Ulsoor Gate police station, under whose jurisdiction the venue of the memorial falls. "We are in possession of the complaint and will look into the matter," he said.
Close