African Cheetahs make their first kill on Indian soil within 24 hours of release into larger enclosure
Nov 07, 2022 05:00 PM IST
The cheetahs hunted down a cheetal (spotted deer) either on Sunday night or in the wee hours of Monday, the official said.
Two male cheetahs - part of the group of eight brought from Namibia to re-introduce the big cat in India's forests - made their first kill within a day of being released from a holding pen at Madhya Pradesh's Kuno National Park. The two - brothers named Freddie and Elton - killed a spotted deer sometime late Sunday or early Monday, officials said. "Cheetahs eat their prey within two hours of hunting," Uttam Kumar Sharma, the chief conservator of forests, said.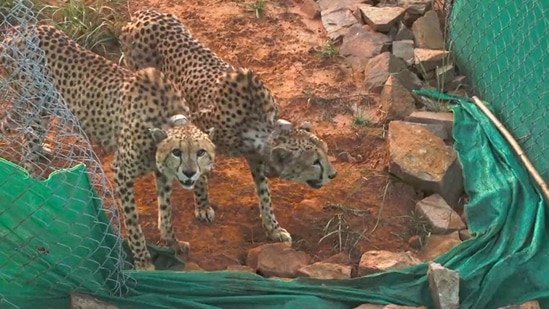 Freddie and Elton were being held in a smaller enclosure after their arrival from Africa - in line with rules that say wild animals must be quarantined for a month before and after being shifted to a different country in order to prevent the spread of any infection.
They were released from quarantine into a 98-acre enclosure on Saturday and made the first kill - a sign they are acclimatising well to Indian conditions and prey - within 24 hours.
Also Read: 'Great News!': PM Modi on update on cheetahs in Kuno National park| Video
The other six cheetahs - which include five females - will be released shortly, officials said.
They are being kept in separate enclosures and are being fed buffalo meat.
On Sunday prime minister Narendra Modi - who released the cheetahs' release into the quarantine zone in September - hailed the brother cheetahs' release.
Also Read | 9-member task force to monitor cheetahs in MP's Kuno National park | 5 points
"Great news! Am told that after the mandatory quarantine, two cheetahs have been released to a bigger enclosure for further adaptation to the Kuno habitat. Others will be released soon. I'm also glad to know that all cheetahs are healthy, active and adjusting well."
The eight cheetahs have been brought to India as part of a project to re-introduce the animal to the wild. The species was declared extinct in India in 1952.