AFSPA removed from Meghalaya completely, restricted in Arunachal
Updated on Apr 23, 2018 10:36 PM IST
A home ministry official said the decision was taken due to a significant improvement of security situation in Meghalaya.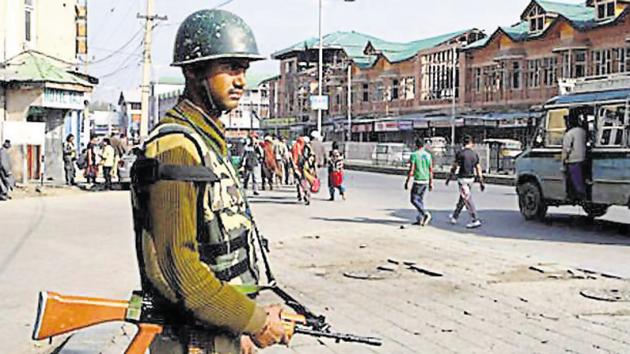 Hindustan Times, New Delhi |
HT Correspondent
The ministry of home affairs (MHA) on Monday said it has removed the Armed Forces (Special Powers) Act completely in Meghalaya and restricted its area of operation in Arunachal Pradesh to eight police stations bordering Assam and three
districts neighbouring Myanmar, attributing this to the improved "security situation" in the north-east.
Officials said the Act, which gives special rights and immunity to security forces in carrying out various operations in "disturbed" areas, is now in vogue in only 40% of the total area of Arunachal. The Act gives security personnel the power to search premises and arrest people without warrant, and to use force, if required, even causing death.
Ministry officials said the decision to remove the controversial law was taken due to a significant improvement of security situation in Meghalaya. "AFSPA has been removed from all areas of Meghalaya from March 31, 2018, while in Arunachal Pradesh, areas under AFSPA reduced to eight Police Stations, besides Tirap, Changlang and Longding districts," said a senior home ministry official on condition of anonymity. "There has been a substantial improvement in security situation in the north-eastern states over the last four years. The year 2017 recorded the lowest number of incidents of insurgency and casualties among civilians and security forces since 1997," the official added.
AFSPA has been in force in Nagaland for several decades and in Assam from early 1990s.
A second home ministry official, who asked not to be identified, said there was a 37% fall in 2017 in the number of incidents of insurgency in the region as a whole. "There was 30% reduction in casualties among security forces and 23% reduction in the number of civilian deaths. Since 2014, there has been a 63% fall in the number of incidents, 83% fall in the number of vicilian deaths, and 40% fall in the number of casualties among security forces," this person added.
Home ministry officials point to specific gains: in Assam, sustained counter-insurgency operations against NDFB(S) have resulted in neutralising 63 cadres and arrest of 1,052 cadres/linkmen besides recovery of arms and ammunition between December 2014 and March 2018. While there is almost no insurgency left in Tripura and Mizoram, there has been a marked improvement in the security situation in other N-E states.