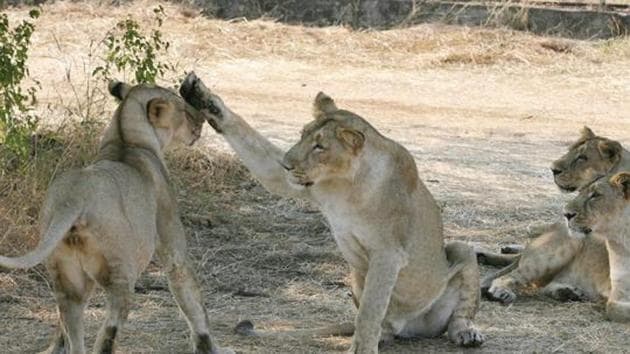 After Gir deaths, Gujarat High Court seeks report on lion conservation
The reports are to be filed in three months, while the next hearing will be on January 16.
PUBLISHED ON OCT 17, 2018 11:39 PM IST
The Gujarat high court on Wednesday asked the state government to take expert help to protect the Asiatic lions, saying it will monitor the progress on measures taken by the government for safety and conservation of the big cats in the Gir National Park and Sanctuary.
A bench of chief justice R Subhash Reddy and Justice VM Pancholi asked the state government to file periodic progress reports on construction of walls around open wells in the areas with lion population, and the measures taken to prevent lion deaths due to electrocution. The reports are to be filed in three months, while the next hearing will be on January 16. Falling into open wells and electrocution after coming in contact with electrified fences installed by farmers (for keeping animals away) are two common causes of lion deaths in Gir.
The court also directed the government to seek expert opinion about prevention of virus-related deaths among the big cats. Some two dozen lions have died in the last one month due to canine distemper virus and infighting at Dalkhakia range of Gir East. Another 31 lions from the same range were quarantined and vaccinated under expert guidance.Earlier, the court had observed that illegal lion safaris could also be one of the source of infection.
The court was hearing a public interest litigation (PIL) filed by wildlife activist Biren Pandya and another PIL seeking prevention of unnatural deaths of lions in the forests of Gir, the only abode of Asiatic lions. The second PIL is a petition taken up by the court on its own after a report tabled in the Gujarat Assembly said that 182 lions died in Gir in the last two years, a large number of them due to unnatural causes.
Spread over 1,400 sqkm, the GNPS and its peripheral areas cover parts of Junagadh, Amreli, Gir Somnath, Bhavnagar and Porbandar districts. The Asiatic lion population in GNPS at the end of 2015 census was put at 523.
Close