Agnipath protest highlights: Over 900 people arrested in Bihar so far, 161 FIRs filed
Jun 21, 2022 12:01 AM IST
Agnipath scheme protest highlights, June 20, 2022: The stir against the Army recruitment scheme is continuing despite government's repeated assurance. On Monday, Army aspirants have given a Bharat Bandh call to intensify the agitation.
Agnipath Scheme Protest highlights: The protests against the government's army recruitment scheme 'Agnipath' continued on Monday. Verious state government tightened the security in veiw of the 'Bharat Bandh' call given by the armed forces aspirants.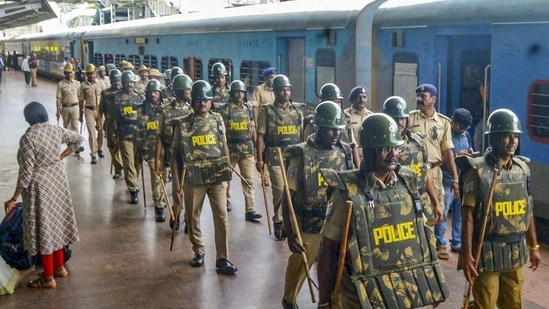 Massive demonstrations erupted last week after the Union government announced the contentious Agnipath scheme to recruit youth to serve in the three services of the Armed Forces. Taking objections over some of its conditions, the army aspirants have been agitating in 11 states including Delhi, Uttar Pradesh, Bihar, Haryana, Telangana, Odisha, West Bengal, Madhya Pradesh, Punjab, Jharkhand and Assam.
The row snowballed as demonstrations turned violent in some states. Protesters set trains on fire, vanadalised public and police vehicles, injuirng security personnel. They are demanding a roll back of the scheme -- a demand denied by the Centre.
The Centre has also been defending the scheme, explaining that recruits, or 'Agniveers', retiring after four years will be given financial aid. Also, in a nod to protesters' concerns, the government has relaxed the upper age limit from 21 to 23.
Follow all the updates here:
Jun 20, 2022 11:13 PM IST

Over 900 people arrested in Bihar so far for vandalism, arson: Police

More than 900 people have so far been arrested in Bihar for vandalism and arson over the ongoing protest against the Centre's new 'Agnipath' recruitment scheme, police said on Monday. As many as 161 FIRs have also been lodged.

Jun 20, 2022 07:57 PM IST

Raid at residence, coaching centre of Bihar station's vandalism accused

Police on Monday conducted raids at Guru Rahman's residence and his coaching centre in Patna, news agency ANI reported. Rahman is the accused in Danapur Railway Station violence last week in which Railways said it has been slapped with a damage of ₹200 crore.

Jun 20, 2022 06:58 PM IST

Over 500 trains cancelled today due to Agnipath protest

More than 500 trains, including 208 mail express and 379 passenger trains were cancelled today due to protests against Agnipath scheme. Meanwhile, four mail express and six passenger trains were partially cancelled, said Indian Railways.

Jun 20, 2022 06:23 PM IST

All coaching institutes ordered closed in two Haryana districts

Amid the ongoing stir over Agnipath recruitment scheme and today's Bharat Bandh, authorities of Haryana's Jhajjar and Mahendragarh districts have ordered all coaching institutes of the district to remain shut. Jhajjar DC Captain Shakti Singh has also ordered an imposition of section 144 in the district.

Jun 20, 2022 05:48 PM IST

Rakesh Tikait announces that SKM will protest against 'Agnipath' on June 24

Samyukt Kisan Morcha (SKM) to protest against 'Agnipath' scheme at all district-tehsil headquarters across India on June 24, announces Rakesh Tikait.

Jun 20, 2022 05:06 PM IST

Many decisions may seem 'unpleasant' but over time country experiences 'benefits': Modi on 'Agnipath' scheme

At an event in Karnataka capital Bengaluru, Prime Minister Narendra Modi said that several decisions and reforms in the present may seem "unpleasant" but over time, the "entire country experiences the benefits of it". "The path of reforms will take us to new milestones," he added.

Modi was talking about the Centre's new recruitment scheme 'Agnipath'. Read more

Jun 20, 2022 04:28 PM IST

Security forces deployed at Telangana's Kacheguda railway station

Amid Bharat Bandh over 'Agnipath' scheme, security forces have been deployed in Telangana's Kacheguda railway station. "RPF, GRP, local police and armed reserve forces have been deployed. Only those with tickets are being allowed on the premises," Dharmendra Kumar, RPF SCR Inspector told ANI.

Last week, one person died and eight others were left injured after police allegedly opened fire at the Secunderabad Railway Station in Telangana to control the mob who had set a bogie of a train on fire during protest against the 'Agnipath' recruitment scheme.

Jun 20, 2022 01:57 PM IST

Indian Army issues notification for Agniveer recruitment rally, registration to open from July onwards

Indian Army issues notification for Agniveer recruitment rally, registration to open from July onwards

Jun 20, 2022 01:39 PM IST

Common youth didn't come to protests, says Uttarakhand CM

"Ganesh Joshi (Uttarakhand Minister) was saying that the common youth didn't come (to the protests). Only those who were brought here politically or those who were misguided came," Uttarakhand CM Pushkar Singh Dhami tells ex-servicemen in Dehradun

Jun 20, 2022 01:30 PM IST

BJP trying to create armed cadre base through 'Agnipath' scheme: Mamata

West Bengal Chief Minister Mamata Banerjee on Monday slammed the BJP-led central government over the 'Agnipath' scheme, alleging that the saffron camp was trying to create its own "armed" cadre base through the new defence recruitment programme. Terming the scheme as an insult to the armed forces, Banerjee also wondered whether the BJP plans to hire 'Agniveer' soldiers as "watchmen" at its party offices, after their four-year service period.

Jun 20, 2022 01:14 PM IST

51 protesters including 3 Cong MLAs held at Singhu border

More than 50 people, including three Congress MLAs, were held on Monday as protests against the Agnipath military scheme continued. Read more

Jun 20, 2022 01:07 PM IST

'Now a question mark on character of armed forces…': Cong's Salman Khurshid on Agnipath protests

"This is not an issue for the youth alone. There is now a question mark on the character of the armed forces. That is a matter of grave concern," says Congress leader Salman Khurshid on Agnipath protests

Jun 20, 2022 12:53 PM IST

Bharat Bandh over Agnipath chokes Delhi-NCR; Massive traffic at Gurugram, Noida| Video

Thousands of vehicles were stuck at Delhi-Gurugram and Delhi-Noida entry points due to security checks in the wake of Bharat Bandh call by some groups over Agnipath military recruitment scheme. Police at the entry points of the national capital were keeping a strict vigil on all vehicles to ensure no Agnipath protester manages to enter Delhi. Watch video

Jun 20, 2022 12:51 PM IST

Punjab: Heavy security deployment at Jalandhar railway station

Due to Agnipath protest, heavy police deployment has been made at Jalandhar railway station amid reports of protesters targeting trains.

Jun 20, 2022 12:41 PM IST

Heavy security deployed in Delhi's Nizamuddin railway station

High security at Delhi's Nizamuddin railway station amid the protests against the Agnipath recruitment schemes. The high security deployment comes at a time when Youth Congress workers blocked a train at Shivaji Bridge railway station in Delhi.

Jun 20, 2022 12:35 PM IST

Service chiefs being front to defend policy decision by Centre: Congress

"For the first time in 75 years, service chiefs are being fronted to defend a policy decision by the government. Why are the Prime Minister, Home Minister and Defence Minister quiet on the Agnipath scheme?" Congress leader Mallikarjun Kharge said. Read full report

Jun 20, 2022 12:23 PM IST

Youth Congress workers stop train at Delhi's Shivaji Bridge railway station

Youth Congress workers stop train at Delhi's Shivaji Bridge railway station. "The government of India needs to Rollback Agniveer Scheme, Youth Congress will fight for the Unemployed youth of this country who want to serve the country and arm its forces," the Youth Congress statement read. Read more

Jun 20, 2022 11:34 AM IST

Hundreds of trains cancelled due to Bharat Bandh

Due to agitation over the Agnipath scheme, 181 Mail Express cancelled and 348 passenger trains cancelled. Four other mail express and six passenger trains were partially cancelled, says ministry of railways in a statement.

Jun 20, 2022 11:06 AM IST

Heavy Police deployed at Railway Station in Bathinda

Image courtesy: HT Photo

Jun 20, 2022 11:02 AM IST

Heavy traffic at Noida-Delhi link road amid Agnipath scheme

Jun 20, 2022 10:59 AM IST

Congress leaders stage protest against Agnitpathe scheme

Congress leaders, including Mallikarjun Kharge, Salman Khurshid, K Suresh, V Narayanasamy and others, are holding a 'Satyagraha' at Jantar Mantar Agnipath Scheme.

Jun 20, 2022 10:26 AM IST

Passengers at Gorakhpur Railway Station face trouble

Passengers at Gorakhpur Railway Station faced trouble as several trains got cancelled amid Bharat Bandh call over Agnipath scheme.

"Have been waiting for 3-4 hours. When we checked train status last night,it didn't say cancellation, but on reaching here we found out about it," said a commuter in ANI report.

Jun 20, 2022 09:53 AM IST

Visuals from West Bengal amid nationwide strike

Jun 20, 2022 09:36 AM IST

Mahua Moitra's 'villain for Agnipath' dig at BJP's Kailash Vijayvargiya

Trinamool Congress leader Mahua Moitra on Sunday joined the list of opposition leaders who lashed out at the BJP's Kailash Vijayvargiya over his remarks that Agniveers - recruits of the government's special military scheme - can be hired as guards. Read More

Jun 20, 2022 09:11 AM IST

Section 144 in some parts of Rajasthan

Rajasthan joins slew of states which have impsoed section 144 of crpc in some parts in view of the bharat bandh call. Besides Rajasthan, Punjab, Uttar Pradesh, Haryana have imposed the restrctions in some parts of their states.

Jun 20, 2022 09:01 AM IST

What govt has said on scheme amid protests

While the defence ministry has made it clear that the scheme won't be rolled back. Here is what else the government has said on the scheme amid raging protests. Read here

Jun 20, 2022 08:58 AM IST

Political parties to join protests against Agnipath scheme

Congress workers to hold solidarity protests across the country on Monday against the Agnipath recruitment scheme. Some Aam Aadmi Party leaders have also announced support to the protests. "A joint movement will be organized at Jantar Mantar in Delhi at 11 am on June 20 against the Agnipath scheme," Delhi minister Gopal Rai had said in a tweet earlier.

Jun 20, 2022 08:56 AM IST

Opinion | The Agnipath scheme needs a pause and rethink

The turmoil caused by the Agnipath scheme is not ebbing yet, and it is sad to see the violence. For those backing the scheme, the advantages include India's youth being exposed to a disciplined life and a pool of young talent available for the defence forces, among others. In my view, it is time to take a dispassionate view of the plan. Read the op-ed here

Jun 20, 2022 07:55 AM IST

'Mahindra group to recruit Agniveers': Chairman Anand Mahindra

Jun 20, 2022 07:24 AM IST

Over 1k held for clashes during Agnipath protests across states

As the wave of violent protests against the new Agnipath military recruitment scheme receded, state police across the country began to take action over the violence in earnest and arrested over a thousand people, mostly in Bihar. Read More

Jun 20, 2022 07:13 AM IST

In Haryana, police to viodegraph anti-social elements

In Haryana's Faridabad, which borders Delhi, cops are also on alert. "Videography will be done in view of the possibility of activities of anti-social elements during the bandh. If the road is jammed or blocked at any place, then in coordination with the concerned supervising officer/station manager, or duty magistrate, the obstacle will be removed by talking to the people involved in the strike. No one will be allowed to take the law in hand," police spokesperson Sube Singh told ANI.

Jun 20, 2022 07:12 AM IST

Schools to remain closed in Jharkhand

Schools are closed in Jharkhand ahead of the shutdown call. "In the wake of the Bharat Bandh called by certain organizations, all schools in Jharkhand will remain closed tomorrow, June 20. The decision has been taken as a precautionary measure," Secretary of Education Department, Rajesh Sharma, was quoted as saying by news agency ANI.

Jun 20, 2022 07:10 AM IST

Entire force to be on duty: Kerala police

Entire force would be on duty to arrest anyone engaging in violence or destruction of public property, said Kerala police ahead of the nationwide strike. State police chief (SPC) Anil Kant on Sunday issued guidelines to the personnel to prevent violence against the public as well as forced closure of businesses during the strike.

Jun 20, 2022 07:08 AM IST

Section 144 impsoed in Noida ahead of Bharat Bandh

Section 144 of CrPC is imposed in the Gautam Buddh Nagar. The police on Sundaasked people to not engage in any activity which disrupts law and order.

Jun 20, 2022 06:38 AM IST

Bharat Bandh call on Agnipath today, tight security in several states

After more than 10 states witnessed protests against the government's new 'Agnipath' military recruitment scheme last week, a nationwide shutdown call - for 'Bharat Bandh' - has been given by some groups on Monday. Read More

Topics

Story Saved