All party meet today over Supreme Court's decision to review Sabarimala order
Stakeholders including the Kerala government, protesting devotees and political outfits admit that the Supreme Court's decision to revisit its earlier verdict has added more confusion.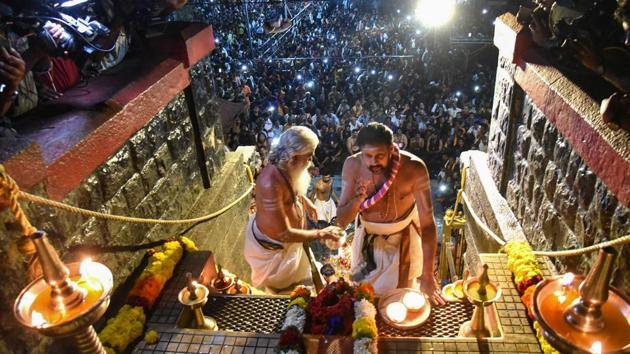 Updated on Nov 15, 2018 02:42 PM IST
Hindustan Times, Thiruvananthapuram |
Ramesh Babu
, All Party Meet Today Over Supreme Court's Decision To Review Sabarimala Order
Initial jubilation after Tuesday's five-judge Supreme Court bench decision, to reconsider its September judgment that allowed women of all ages to enter the Sabarimala temple, was muted when news trickled that the apex court had not stayed its earlier verdict. Now, stakeholders including the Kerala government, protesting devotees and political outfits admit that the Supreme Court's decision to revisit its earlier verdict has added more confusion.
With just three days left to the annual pilgrimage season to start, fingers are crossed. The stalemate has also affected preparations. Flood-ravaged Pambha, the main base camp of the temple, remain crippled without any facility. The row has taken a toll on preparations, say regulars at the temple adding that instead of restoring basic facilities the government has waded into an unseemly controversy. The state government's 'rebuild Kerala' slogan after the flood of the century has been swept away in the temple tide.
Protestors believe that if women enter the temple during the 61-day window period when the shrine opens, all review petitions will turn invalid so they have decided to step up their vigil. The hill temple will open on Saturday and close only on January 14, with a small break in between. There will be two breaks--Mandalam (November 16-December 27) and Makara vilakku (December 30-Jan 14, 2019).
However, the state government has made it clear that if any woman decides to trek to the temple during this period it is duty-bound to provide security.
Sensing opportunity opposition parties have upped their ante. Congress, which has been keeping a low-profile, has jumped on the bandwagon with party working president K Sudhakaran saying that party workers will stop women in the 10-50 age group entering the temple. RSS leader Valsan Thilankeri went further warning the government that it will have to pay a heavy price if customs were flouted.
"The temple is not a war zone. We need free movement of devotees as well. We hope after the all-party meet on Thursday everything will be settled," said Travancore Dewasom Board president A Padmakumar. The BJP has said that it will walk out of the meet if it failed to get an assurance from CM?Pinarayi Vijayan.
When Kerala police opened its popular portal, sabariamalaq.com, last week at least 560 women in the 10-50 age group have registered for a 'darshan' during the seasonal pilgrimage. To add to its woes, Bhumata Brigade leader Trupti Desai has announced her intention to visit the temple on Saturday. She has sent a letter to the CM seeking protection to her six member group. More women including social activists are expected to arrive unannounced.
The overstretched police force says they expect a tumultuous season this year. "Unlike earlier two occasions, monthly pooja and the one-day chithiray attam, are very sensitive. Even a minor scuffle can lead to major mishap. If political leadership won't arrive at a consensus there are possibilities of stampede or bloodshed," said a senior police official on condition of anonymity. He added that the hilltop was a ticking bomb. The TDB commissioner has also submitted a report to the High Court that any tension can trigger mishaps. According to an estimate of the TDB during peak season, more than 8-10 lakh pilgrims visit the temple every day.
Close Story
Personalise your news feed. Follow trending topics