Andhra Pradesh: School drop-out digs into history to list 'missing' villages
Updated on Jan 23, 2023 12:17 AM IST
Shivashankar has identified nearly 500 such villages and hamlets across different parts of erstwhile combined Guntur district (which has now been divided into three separate districts – Guntur, Bapatla and Narasaraopet), which don't exist at present – as they disappeared from records over centuries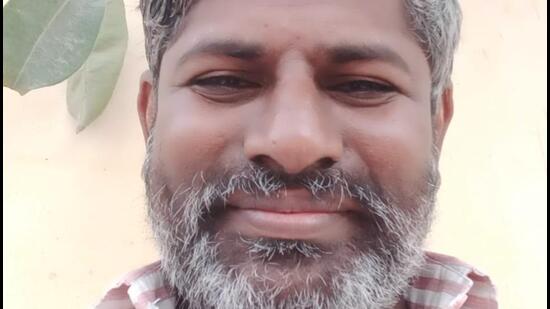 He is neither a historian nor an archaeologist; neither a research scholar in a university nor a littérateur. Yet, he is trying to accomplish an uphill task which people from any of these categories would ever try.
Meet 42-year-old Manimela Shivashankar, a Class-5 drop out, who ekes out his living, loading and unloading goods for a private transport company in Andhra Pradesh's Guntur town.
However, in his spare time, Shivashankar goes through ancient scriptures, historical manuals and literature in libraries or inscriptions on various temples across the district to search for the villages and hamlets mentioned in there.He tries to find out the actual location of these places and why they have gone into oblivion of history.
So far, Shivashankar has identified nearly 500 such villages and hamlets across different parts of erstwhile combined Guntur district (which has now been divided into three separate districts – Guntur, Bapatla and Narasaraopet), which don't exist at present – as they disappeared from records over centuries.
He has made an interesting study on these "missing villages" – along with the reasons: where they were originally located, what their historical significance was and why they have disappeared into history over a period of time.
Despite being a school dropout and lacking formal education in literature or history, Shivashankar took the help of his wife Lakshmi Rajyam, who has studied up to Class 12 and a couple of friends to compile a book in Telugu in the name of "Guntur Zilla Adrushya Gramalu" (The Missing Villages of Guntur) last year, that has attracted the attention of several universities in Andhra Pradesh.
"I don't remember how it struck me that I should do a study on the missing villages. All I can say is that I suddenly developed interest in this after visiting the Kotappakonda temple at Narasaraopet about five years ago, where I noticed an ancient scripture which mentioned some villages which are not in existence now," Shivashankar said.
Since then, whenever he found time, Shivashankar started visiting roadside book shops in Guntur and looking for old history-related books; temples within the district and observing inscriptions and libraries to collect interesting material related to historic places.
Shivashankar also went through "Mackenzie Manuscripts," the records of Colonel Colin Mackenzie, a 18th century Scottish army officer in the British East India Company who later became the first Surveyor General of India, especially in South India.
"Mackenzie was involved in collection of oriental literature and 'Kaifiyats'— historical records about a village or town in the Deccan region by village accountants. He surveyed southern India, making use of local interpreters and scholars to study religion, oral histories, inscriptions and other evidence. His manuscripts gave me a lot of inputs about the villages existing in those days," Shivashankar said.
He also got acquainted with the records of manuals and gazettes of the British era, besides ancient poetry, revenue records, old maps etc. to know about such missing villages. He also made inquiries with old-timers who remembered the villages which were existing in the past.
Reasons for the disappearance
Shivashankar identified 28 reasons for the disappearance of villages over a period of centuries. "It could be due to migration of people from their original place due to long-periods of famine in their area and settling at some other places or the villages might have been inundated due to floods to Krishna river," he said.
According to him, heavy taxation by the local feudal lords or kings, attacks by wild animals or superstitions also might have forced the people to desert their original villages. "In the 20th century, some villages got inundated in the backwaters of Krishna river due to construction of irrigation projects like Nagarjunasagar and Pulichintala. Under such circumstances, the villages existed only on papers and records, but are not seen at present. Some of the villages might have merged with the adjacent villages and lost their original names," he explained.
Some of the villages which he identified as missing have great historical significance. "For instance, Pingali, a popular village, after which several people in Telangana and Andhra take their surname, like ancient poet Pingali Surana during Vijayanagara empire, Pingali Venkaiah who designed Indian national flag and popular Telugu lyricist Pingali Nagender Rao, is nowhere to be seen now. My study has revealed that it was a village in Guntur district, which was deserted by the villages due to floods," Shivashankar said.
Similarly, Boddupalli village, which was mentioned by famous Telugu poet Srinatha of 14th century in his poems, has disappeared over centuries ago and is not seen in any of the revenue records. Shivashankar traced the village near Amaravati on the banks of Krishna river based on a small clue given by the poet – it was on the banks of Godderu, which joins Krishna river near Amaravati.
Another missing village Nidigallu, which was mentioned in Rentala Brahmi inscription was detected by Shivashankar at Vijayapuri of Nagarjununi Kota of 3rd century AD. Similarly, Daddanalapadu which was recorded as a village where queens used to commit "Sati" along with their husbands who died in wars, was found to be have disappeared.
Many such villages such as Panuganti, Tammadipalli, Kommamuru, Navanidhanapatnam, Mulukutla, Shanampudi, Eklas Khan Peta, etc, which once flourished in Guntur have now gone into history.
"It is a great effort by Shivashankar and first-of-its-kind research on the missing villages along with the reasons for the same. In spite of his limitations in education, he has done his best to record the history which everybody has forgotten," said Dr Emani Shiva Nagi Reddy, chief executive officer of the Cultural Centre of Vijayawada, who wrote a preface to Shivashankar's book.
Shivashankar says he has a long way to go in identifying more missing villages. "What I have done so far is just the tip of an iceberg. I don't have resources or time to do extensive research. It will be good, if somebody can carry forward this attempt," he added.