Angul, India's 3rd largest coal producing district, must invest big on EVs: Study
Aug 25, 2022 02:55 PM IST
Angul in Odisha accounts for more than 12% of India's coal production. In 2020-21, it yielded 96.7 million tonnes from its 9 mines – eight opencast and one underground
Angul, the country's third largest coal-yielding and Odisha's largest coal mining district, needs to invest heavily on manufacturing electric vehicles and solar photovoltaic cell batteries using cheap coal over the next 10 years as production from its mines will start reducing 2040 onwards under the Net Zero-2050 policy, a report by Delhi-based non-profit environmental agency iForest stated on Wednesday.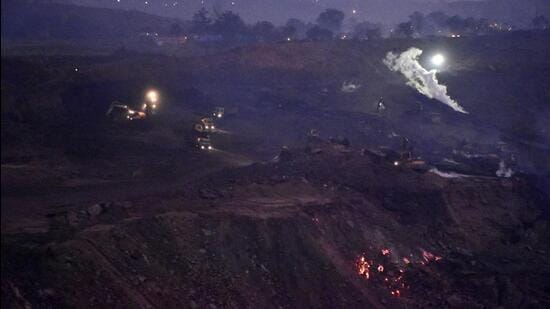 In May 2021, the International Energy Agency (IEA) released the 'Net Zero by 2050', the world's first comprehensive energy road map that outlined the policies, technologies, and behavioural changes needed to achieve a net zero energy system in the next three decades.
According to the IEA, 'net zero' indicates massive decline in the usage of fossil fuels such as coal, oil and gas by halting sales of new internal combustion engine passenger cars by 2035, and phasing out all unabated coal and oil power plants by 2040.
Angul accounts for more than 12% of India's coal production. In 2020-21, it yielded 96.7 million tonnes from its 9 mines – eight opencast and one underground. The district has four thermal power plants, including two captive plants, with combined capacity of 6.2 gigawatts (GW). Additionally, one 1.3-GW ultra-supercritical thermal power plant is in the pipeline. Besides, there is an integrated steel plant of 6 million tonnes per annum production capacity, with a plan to also increase production to 25 MMTPA, an aluminium smelter and a planned aluminium park, a fertiliser plant, and several medium and small-scale industries.
Thermal power plants in Angul contribute to some of the cheapest modes of electricity in the country. The generation cost of electricity currently ranges from ₹2.65 to ₹2.95 per kilowatt-hour (kWh), which drives the coal industry in the district.
Also Read:Coal mine expansion norms eased amid supply crunch
The study done by iForest, however, said that the economics of electricity generation from coal vis-à-vis renewables will dramatically change in the next 10 years. "Coal will continue to play a major role in the district's economy in the next two decades. However, after 2040, mines will start shutting down. Coal-based thermal power units will start shutting down after 2025 due to age and their inability to meet environmental norms," the report said.
Chandra Bhushan, the president of iForest, said that in an ambitious 'Net Zero-2050' (NZ2050) scenario, in which production will have to be phased out by 2050 to meet 1.5°C reduction climate goals, 75% of new coal mines have a high risk of becoming stranded assets. "The closure of coal-based power plants in Angul will start this decade. Five captive-power units with a combined capacity of 600 megawatts (MW) are already aged between 33-36 years, and will struggle to meet the new emission standards. While, 30% of the installed capacity (6.2 GW) are currently below 10 years of age, by 2050 all the TPP units can be retired as they will be older than 35 years," he said.
The report further said that while 'Net Zero-2050' presents an enoromous challenge, it also gives a huge opportunity to build a green industrial economy by using cheap coal over the next 10 years. The green industrial transition can be planned in two phases – a 'Brown Phase' and a 'Green Phase'.
In the Brown Phase (the next 10-15 years), the focus should be to build the backbone of the green industry using coal in the most environmentally responsible manner. Angul can maximise the potential of its coal resources, using it for power generation through super-critical and ultra-supercritical thermal power plants, and production of grey hydrogen through coal gasification.
"Electricity generated through such technologies can be used to build the green manufacturing sector which is energy intensive. This will include, manufacturing of electric vehicles, solar PVs and battery for storage, which will also boost domestic manufacturing of high-value products and support the 'Make in India' initiative. The grey hydrogen will be used to build the base for producing green steel and green urea. The phase will also involve incentivising investments to exploit the renewable energy potential of the district and increase its share in the energy mix, as Angul has about 10.8 GW of solar potential," the report said.
The report said the revenue that the government will earn from coal mining through coal cess and the District Mineral Foundation funds can act as seed money to facilitate the transition to green economy.
"A decadal assessment of potential funds available combining coal cess and DMF shows that over ₹1.9 trillion can be available for such purposes over the next 20 years. This is the most crucial period for the government to plan a clean energy transition and a just transition to meet India's net zero emission reduction target," the report stated.
"Exciting news! Hindustan Times is now on WhatsApp Channels
Subscribe today by clicking the link and stay updated with the latest news!"
Click here!
Get
Latest India News
along with
Latest News
and
Top Headlines
from India and around the world