Pneumonia-hit IPS officer Aparna Kumar conquered South Pole with broken specs
Updated on Jan 20, 2019 06:47 PM IST
Kumar has successfully reached the South Pole after covering 111 kilometres of walking on the snow. She also carried equipment weighing 35 Kilograms along with her. She has already scaled the top six mountain peaks of the six continents of the globe.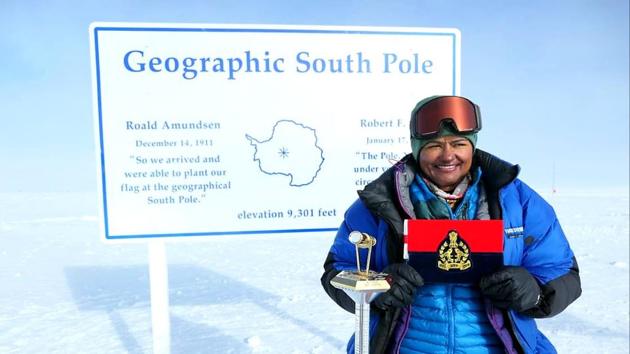 Prayagraj |
Smriti Malaviya
Aparna Kumar, who is known for conquering mountains, on last Sunday, became the first woman IPS officer to reach the South Pole.
While the mission was as challenging as conquering the Mt Everest, unfurling the tricolour at the South Pole was special for her, especially since she suffered from pneumonia just before leaving for the expedition.
"And if that was not enough, I also broke my prescription sun glasses during the expedition," said beaming Aparna while talking to Hindustan Times.
"Braving high speed icy wind which slashed my face amid bouts of frost bite and chest congestion made the experience of skiing up to eight hours a day at a temperature of minus 40 degree Celsius memorable," said the 2002 batch IPS of UP Cadre, currently posted as DIG, ITBP in Dehradun.
"The weather is never the same. It is cloudy, windy, icy cold and snowing. Antarctica is the driest and coldest place on earth. It was a great struggle to stay in open in such an extreme weather condition. My hands and fingers were terribly cold and I always feared of getting frostbite. Even toes get very cold while moving," shared the mountaineer, who reached the South Pole on January 13. "I felt really blessed and fortunate," she said while crediting her husband Sanjay Kumar for her success.
Sanjay Kumar, who is secretary, urban development, Uttar Pradesh is the brain behind all her expeditions.
"At every break I would get terribly cold and I had to be extra careful about not getting frostbite or falling ill. I had to finish my drinks, snacks, wear mittens and start warming up my body for skiing till others got ready."
That frosty cold that it was, she had to wear double mittens. And since she just recovered from pneumonia, she had to carry the medicines to Antarctica also.
"As soon as the skiing commenced, I started pneumonia drugs. I was constantly coughing. Pulling the 35 kgs sled was also energy sapping as every day we were gaining altitude," she narrated. While one of the team members from UK had to leave due to altitude problem, another team member from Ireland had to leave due severe tendonitis, she claimed.
In fact, one of her guides too had to leave towards the end of the expedition due to heart issues.
Personalise your news feed. Follow trending topics