Assam: Man declared foreigner by court enlisted in NRC first draft
Published on Apr 04, 2018 10:56 AM IST
The National Register of Citizens is being updated in Assam to weed out illegal immigrants.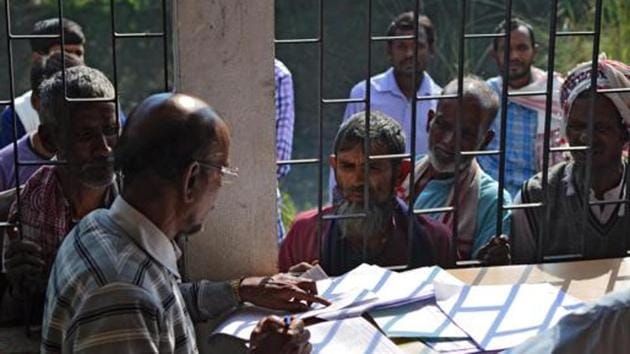 Hindustan Times, Guwahati |
Sadiq Naqvi
Name of a person who was earlier declared a foreigner by a court has been enlisted in the first draft of the National Register of Citizens (NRC) published by the Assam government on January 1, raising question about the fairness of the exercise.
The NRC is being updated in the northeastern state to weed out illegal immigrants. In the first list more than 1.9 crore people out of the 3.29 crore total applicants have been recognised as legal citizens of India. Ali Ahmed is among them.
Ahmed was declared an illegal immigrant by a foreigners tribunal in Sivasagar district in 2011, a verdict which was also later upheld by the Gauhati high court.
The anomaly came to the light after Ahmed moved a review petition in the high court challenging the earlier order citing inclusion of his name in the NRC draft list.
Prateek Hajela, the state coordinator of the NRC admitted the goof. He said it occurred due to "incomplete information" given by the border branch of the Assam Police.
To ensure that no declared foreigners make it to the NRC list unless they are cleared by the higher courts, border branch had given the NRC authorities a list of all declared foreigners, along with their addresses. But in Ahmed's case there was a mismatch in the address, which led to the oversight, the NRC authorities said.
"We have been given a list which does not take into account the current addresses. In Ali Ahmed's case the NRC application and the information given by the border police also had different surnames for his father. Moreover, his (earlier) address was of Sivasagar," Hajela said.
In the NRC application, Ahmed gave an address, which is in Morigaon district.
During scrutiny of the citizenship, the NRC authorities, however, did not find any discrepancy in the documents submitted by Ahmed, including the legacy data (his father's name in the electoral roll prior to March 24, 1971, the prescribed cut-off date for entry into the state as per the Assam Accord).
Hajela accepts that technology alone cannot ensure a foolproof NRC. "We do not have a system to find out if the person has changed his address," Hajela said, adding it is the responsibility of the border branch to check and update addresses.
Asked if more such cases could be there, Hajela accepted there was a possibility.
The NRC authorities have so far found out 4259 cases of declared foreigners applying for the inclusion in the NRC lists.
"A big deal should not be made out of just one case when there are so many other instances where we have ensured that they don't make it to the NRC," Hajela said
Assam has more than 90,000 persons who have been declared as foreigners.
Principal secretary, home department, Sweety Changsan said: "There is always a possibility of such errors. But there is also the way to deal with them. We will go through the final lists with a fine tooth-comb and match them with the list of declared foreigners."
Personalise your news feed. Follow trending topics