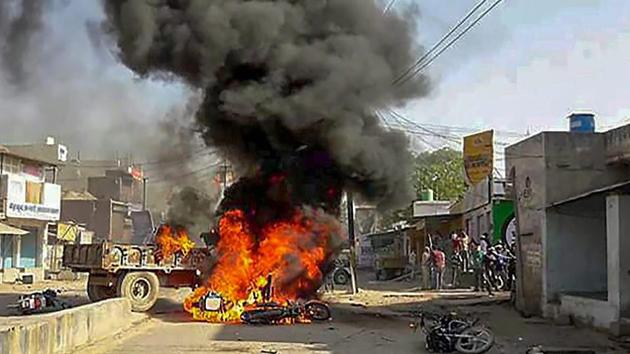 Demographics to identity: Why a battle brews over the new Dalit vote
Dalits are important for a simple reason — their demographic strength, across geographies, makes them a politically formidable constituency.
UPDATED ON APR 03, 2018 08:06 AM IST
Monday's Bharat Bandh to protest against what Dalit groups saw as the dilution of the SC/ST (Prevention of Atrocities) Act by a March 20 Supreme Court decision elicited an unusual political response.
No side across the political spectrum criticised the issue underpinning the bandh. The Opposition backed the protests. The government reiterated its commitment to addressing the issue that was being flagged by the protestors and pointed out it had filed a review petition in the Supreme Court.
Why did no political actor want to come across as opposing the protest? The explanation lies in both political arithmetic and the sociology of the Dalit issue.
The arithmetic
Dalits are important for a simple reason — their demographic strength, across geographies, makes them a politically formidable constituency. They are present in large numbers in precisely the states which contributed to the Bharatiya Janata Party's (BJP) historic performance in 2014. These states remain central to the BJP's fortunes in 2019 once again.
In Uttar Pradesh, Dalits constitute around 22% of the population; 17 of the 80 Lok Sabha seats in the state are reserved for SCs. In 2017, the BJP was able to capitalise on the contradictions within Dalits. In 2019, they are worried that a stronger Bahujan Samaj Party (BSP) — in alliance with the Samajwadi Party (SP) — could not only retain its core Dalit vote of Jatavs but also win over other Dalit subcastes.
In Bihar, Dalits constitute 17% of the population; six out of 40 LS seats are reserved. Here, Lalu Prasad's RJD is making a strong push for the Dalit vote.
In Maharashtra, Dalits constitute 10.5% of the population according to the 2011 census; five of the 48 seats from the state are reserved. Coming in the wake of Bhima Koregaon clash, the BJP-led government would be keen to prevent further Dalit alienation.
In two poll-bound states, Dalits are a swing force. In Rajasthan, they are 17% of the population; four out of 25 LS seats and 33 of the 200 assembly seats are reserved for SCs. In Madhya Pradesh, which saw six deaths on Monday, Dalits are over 15% of the population. Four out of 29 LS seats are reserved; 35 out of 230 assembly seats are reserved. The Congress hopes to garner a substantial section of Dalit votes in both states.
But it is not just in reserved seats that Dalits are important. Spread across each constituency, they are an influential swing force in every electoral battle. They can't win you a poll on their own -- but any party which has Dalit votes along with one or two other social groups is a winner.
Read| Govt in damage control mode after 9 killed in Dalit protests, says committed to well being of SCs, STs
The sociology
In the early decades after independence, dominant upper castes could dictate Dalit electoral choices. This changed with the rise of autonomous Dalit forces, particularly the BSP.
Now, there are organised caste and subcaste associations of Dalits (like of other caste groups). Young Dalits are as active on social media outlets as any other demographic group. There is a Dalit middle class which has emerged out of the policy of affirmative action. Dalit entrepreneurs have taken advantage of the market and a more liberal economic order. Even Dalits in rural areas are far more connected today to the world outside. With TV and mobile penetration, and fluid migration patterns, Dalits have a sense of the larger political churn, and strong opinions.
The battle
It is this combination of numbers, political strength, growing awareness, ability to access new technological tools and connectivity with the wider world and each other that has enabled Dalits to organise protests like the one on Monday.
It is also precisely this combination which makes Dalits such a coveted political constituency -- and a constituency that is now not hostage to any grouping. They assert themselves on issues like atrocities, representation, reservations, jobs or violence by upper castes. They negotiate hard with parties. And they will as a strong pressure group when necessary.
On Monday, this Dalit constituency asserted itself. The political responses — the BJP's attempts to reach out and Opposition's explicit support— were to win over this constituency.
Read| Bharat Bandh: What happened where during Dalit protests
Topics
Close