Being secular doesn't mean being anti-Hindu, says Jairam Ramesh
Hindustan Times, New Delhi |
Saubhadra Chatterji and Prashant Jha
Apr 23, 2018 08:27 AM IST
The senior Congress leader says the 2019 election could bring a 'fourth experience' in coalition politics. He also says party chief Rahul Gandhi has undergone an amazing transformation in the past two years.
Rajya Sabha MP and former Union minister Jairam Ramesh remains a significant voice in the Congress as the party tries to navigate the road to the 2019 Lok Sabha polls. He spoke to Saubhadra Chatterji and Prashant Jha about the new Congress, the leadership style of Rahul Gandhi, and the contours of a possible alliance with other Opposition parties, among other issues. Edited excerpts: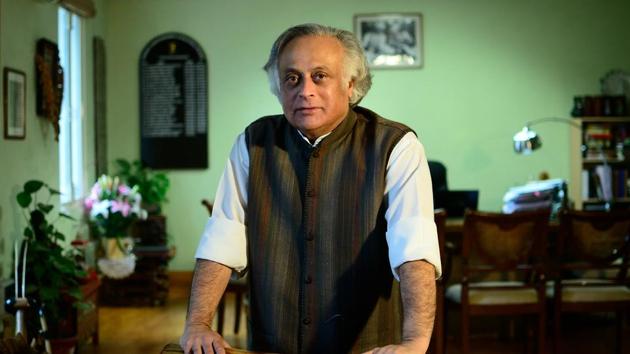 It is the same Congress. Obviously, Rahul is different from Mrs Gandhi. He is 25 years younger and comes with the exuberance and enthusiasm of youth. He is bringing in the young and giving them positions of authority, which was long overdue. At the same time, he is conscious that his appointment marks change with continuity. Rahul came into politics in 2004, took on a direct managerial responsibility in January 2013 as vice president, but has occupied the hot seat only last month. He has had a 14-year transition while Mrs Gandhi came in directly, under extraordinary circumstances, in 1998. It is not fair to compare but the objective is identical.
Stay tuned with breaking news on HT Channel on Facebook. Join Now
Click to join.
He is an extraordinary listener. In a meeting with 10 people, if you are quiet, he will reach out and ask for your views. There has been a remarkable, amazing transformation in him in the last two years — in terms of outreach and aggression. His speech at the plenary had the audience enthralled. He is becoming more direct, speaking mostly extempore, very confidently.
Men make moments, but moments make men too. (Jawaharlal) Nehru made moments, but (Lal Bahadur) Shastri was made by the moment. Maybe the fact that he is numero uno and that the buck stops with him is forcing him to adopt a different approach.
I don't think there is a eureka moment. But the Gujarat campaign steeled him. It was a major watershed and he came into his own — the manner in which he conducted the campaign and led from the front.
Our biggest challenge has been to project the real Rahul, the private Rahul, as the public figure. There was such a dissonance in perception and reality. What he stands for, what he reads, what he eats, it has to come out. Politics is a public profession. I think it took time for him to adjust to the pressures of Indian politics. But this remains work in progress. There is much more public engagement that will be required, and articulation of the positive narrative the Congress brings.
Modi had not held any office when he became the chief minister of Gujarat.
But he had been the CM for 12 years. And he was soon to become the prime minister for five years. So, in 2019, Rahul has a disadvantage.
It is (about) how he strikes a chord with people… And look, it is not a Modi versus Rahul fight; it is Congress versus BJP. Our elections are a contest between parties, not between personalities, and they are not beauty contests.
No. Modi may have added 6-7% to the BJP vote, but the underlying 22-23% of the vote was BJP's vote. It is the BJP which got 31%. We are a party democracy. We are not a presidential system.
For 2019, too, the question of PM is completely irrelevant at this stage. It depends on the numbers. The BJP will fight in coalition; we have pre-poll allies. So the issue is not who will be PM, the issue is which party will come to power, and realistically, which coalition will come to power. Will it be a BJP-anchored coalition, or a Congress-anchored one? There are some leaders who talk about a coalition where Congress also swims, does not provide the anchor.
Mamata Banerjee leads a West Bengal party. K Chandrashekar Rao will not get a seat outside Telangana. These are very powerful, effective, regional leaders. But today, the two national parties are Congress and BJP. I would have said some months ago that the Left is a national formation but they have undergone major setbacks. I am not saying regional leaders don't have a national outlook. Mamata does, but she is anchored in Bengal. Can Trinamool win the South, in the North? You saw with AAP (Aam Aadmi Party), it is finding it difficult to go out of Delhi.
There will be a lot of permutations and combinations. There are the 1977, 1996, 2004 models. Arun Shourie has
spoken of the 69:31 formula – in 2014, only 31% voted for Modi, the rest voted against him; so that is the 1977 Janata model where everyone came together and the issue was Indira Gandhi.
The 1996 model is United Front, which Congress supported from outside — though in my view support should always be from inside. In 2004, along with pre-poll allies and post-poll friends, we formed the United Progressive Alliance. Maybe 2019 will come out with a fourth experience. Times will dictate strategy.
The Congress is a national party. It cannot take VRS (voluntary retirement scheme) when it is in alliance. This is the dilemma. As a national party, we have an organisation everywhere, but the moment you enter into an alliance, you cede space. There is a trade-off. It may pay us short-term dividends, but is a demotivating factor in the long-term.
Our challenge is to convert the growing disenchantment with Modi into growing enchantment with Congress. It happened in a small way in Rajasthan, in a bigger way in Gujarat. We will hold on to Karnataka. Chhattisgarh has been a 1-2 percent margin state. In Rajasthan, we have to snatch defeat from the jaws of victory. In Madhya Pradesh, too, there is huge anti-incumbency.
It is more important to maintain party unity, rather than get involved in who will be the chief minister. The party has to win. In Karnataka, yes we have a strong local leader, but we also have a strong party organisation. The party structure, ideology, outreach, communication, is more important.
Demonetisation had a horrendous impact on the economy. It led to substantial unemployment, huge dislocation. It was a bad idea, implemented even more badly. GST (goods and services tax) was a good idea, implemented arbitrarily. Modi came to power on the grounds he was an effective economic manager — that's where many people are disappointed. We knew he would be a divisive political figure, and he has
not disappointed us on that.
He has squeezed MSPs (minimum support prices), rural spending, rural wages. There are issues of land, forest rights. It is not just agriculture. And it is not just rural economy. There is tax terrorism. People are not speaking because of an atmosphere of fear.
We launched it; they gave it new names and took it forward. We gave bureaucratic names like Basic Savings Bank Deposit Account. Modi converted it into Jan Dhan. Who remembers BSBDA? He rediscovered rural India last year. Will that help electorally? It didn't help him much in Gujarat, Rajasthan and UP. Modi is now facing 3 Ds - disappointment, disenchantment and disillusionment.
They have only one card — the P card: polarisation.
That's an intellectually lazy argument. Mrs Gandhi always said we have to fight communalism of all kinds; that secularism is not just majority-minority but that the majority of people across religions want to live in peace while a minority section in each religion wants to spread prejudice. On 12 January, 1999, on Swami Vivekanan- da's birth anniversary, Mrs Ga- ndhi spoke at the Ramakrishna Mission and said India is secular largely because of the traditions and legacy of Hinduism. What Rahul is doing is not new.
You know how the term UPA was coined. It was initially to be called United Secular Alliance, which we ruled out because the acronym would be USA; then we thought of Progressive Secular Alliance. Karunanidhi, the arch-atheist, then said something at a meeting — 'don't use the word secular since, in Tamil, it translates into irreligious'. We then thought of UPA. So what we have to convince the people about is that India is multi-religious; there is a place for all religions; but as far as the Indian state is concerned, it should have nothing to do with religion. That is secularism. I am more of a practising Hindu than 90% of the BJP guys. Because we are secular does not mean we are anti-Hindu.
This was not sudden but preceded by months of deliberation. Weighing the pros and cons carefully, a considered decision to go ahead was taken in order to strengthen the judiciary to which we are irrevocably committed -- vastly more so than Modi and his colleagues. It was an unprecedented step, but the situation was truly extraordinary... it was a very sad moment and I can tell you the step was taken with a very heavy heart. I don' think anybody wanted to but the five issues left us with no choice.
The move has nothing to do with judicial verdicts. All five grounds for impeachment have to do with personal
integrity. We believe what SC decides is final, even if at times we may not agree with it. Final, but not infallible, as a legal scholar wrote.
Absolutely bogus.