Tamil Nadu: BJP bets big on AIADMK merger, hopes party will join NDA
Updated on Aug 01, 2017 05:46 PM IST
The BJP is pushing the two factions of the AIADMK to unite for a possible alliance with the Dravidian party for the 2019 general elections.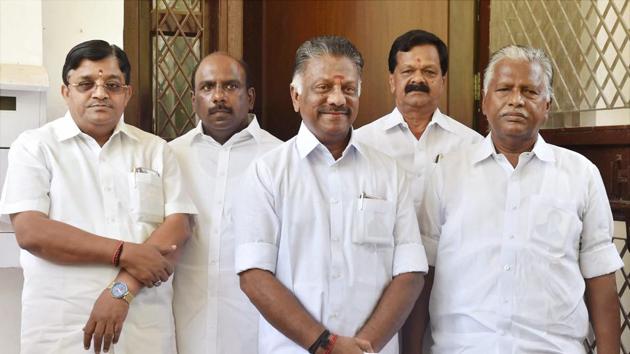 The ruling AIADMK in Tamil Nadu may join the BJP-led NDA as soon as the two factions complete a merger.
According to a BJP leader in Delhi, "AIADMK will come on board".
If the merger does happen, it would mean that the Dravidian party could find representation in the Union council of ministers. It will be after a gap of over four years that Tamil Nadu could have adequate representation in the Union council of ministers after the DMK walked out of UPA in 2013
H Raja, a senior TN state BJP leader, the leader entrusted with translating senior BJP leaders speeches in Hindi into Tamil, told Hindustan Times that "merger between the two AIADMK factions could happen very soon."
BJP Tamil Nadu President Tamilisai Soundarrajan refused to confirm or deny the developments.
However, another BJP source said that "things many not happen at the pace at which they are being expected. Both factions are with us, but there are differences among themselves. Besides, there is no urgency as far as we in the BJP are concerned," said the leader.
The AIADMK has 50 MPs in the two houses of Parliament and the BJP would like to firm up an alliance in time for the 2019 general elections.
According to a senior leader in the O Panneerselvam camp, "dumping Sasikala and Dinakaran must take place before merger happens." Another BJP leader privy to developments within the AIADMK factions confirmed on Tuesday that "Mannargudi family will be removed from party."
State finance minister D Jayakumar confirmed on Tuesday that "merger talks were going on. The merger can happen very soon," the minister said in response to questions from reporters.
Former chief minister O Panneerselvam had put the precondition that Sasikala and Dinakaran must be removed from party posts and kept away from government for any merger to happen.
Former education minister M Pandiarajan reiterated OPS' demand, saying that the merger can happen only under the leadership of OPS. But chief minister Edapaddi Palanisami has dug in heels and insists that he remains the chief minister, which is where the talks were getting stuck, party sources said.
Read more: Tamil Nadu: CM Palaniswami confident of merger of AIADMK factions
"Demand for a probe into death of J Jayalalithaa and ouster of Mannargudi family are the two preconditions that are absolutely non-negotiable," Pandiarajan said.
OPS will in all probability form another committee for discuss merger modalities, sources said.
But Dinakaran himself has ruled out a merger and is standing in the way of a reunion. He asserts that he was acting on behalf of general secretary VK Sasikala who is in jail in Bengaluru.
"Few of our ministers and leaders are saying things (about joining NDA) out of their own fears. I am sure they will come out of fear and it will not happen," Dinakaran told media persons.
"I am also certain that merger will not happen, as I know what is happening inside," the AIADMK deputy general secretary said.
Within minutes of Dinakran's statement, chief minister Edapaddi Palanisami and senior ministers congregated at secretariat to take stock of the situation.
Personalise your news feed. Follow trending topics