BJP MLA's daughter, husband get security
Updated on May 30, 2020 08:48 PM IST
Sakshi Misra, daughter of BJP MLA Rajesh Misra from Bithari Chainpur in Bareilly, and her husband have been on the run since she announced her marriage.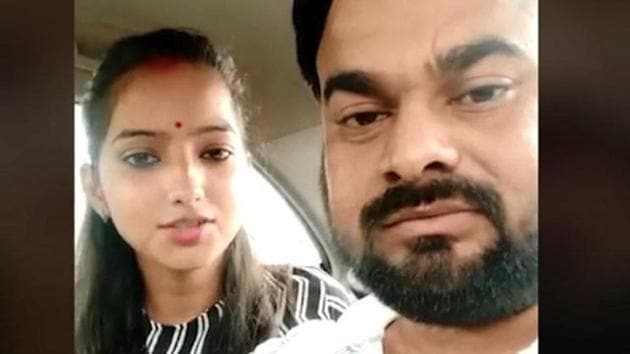 Prayagraj |
HT Correspondent
Ruling Bharatiya Janata Party (BJP) lawmaker Rajesh Mishra's daughter and son-in-law were assaulted on Monday, minutes after the Allahabad high court ordered police protection for the couple days after they sought it saying they feared for their lives because of their intercaste marriage.
Sakshi, 23, and Ajitesh Kumar, 29, were assaulted in the court's corridor. The police intervened and took the couple to the office of the court's registrar general. They were later safely escorted out of the court premises.
Also Watch | BJP MLA's daughter demands protection after marrying a Dalit man
Also read | Marriage of UP MLA's daughter with Dalit man valid, says Allahabad HC
Police said that there were around 500 people outside the court and some unidentified people from the crowd hit the couple. The attackers were not identified and no arrests were made until late on Monday.
Sakshi moved the court last Thursday seeking security on the grounds that she feared for her life because her Brahmin family was opposed to her marriage with a Dalit. In her petition to the court, she said they were adults who got married on July 4 of their own free will.
Earlier on Monday, the court directed the police to ensure that Mishra or his family members do not interfere with the couple's married life. It also directed the police to ensure the couple's lawyer Vikas Rana is not harmed.
Also read: 'Age gap, income my concerns': BJP MLA after daughter accuses him of witch hunt
Justice Siddharth Verma also asked the couple to have their marriage registered. "If the marriage was not registered within two months, then this court order will automatically stand vacated," he said.
The court also issued a notice to Mishra regarding the claims made in Sakshi's petition. "Because of the seriousness of the matter, the court has also issued a notice to Rajesh Mishra to file his reply in the case and also directed that I may given security, if necessary, for my safety," said Rana.
Mishra issued a statement last Thursday denying allegations.
Also read: Marriage certificate of BJP MLA's daughter is fake, says temple priest
Close Story
Personalise your news feed. Follow trending topics