BJP trying to bypass legislative scrutiny on triple talaq bill, says Congress
Updated on Jan 29, 2018 06:39 PM IST
Congress leader Anand Sharma says triple talaq bill should be sent to a select committee of the Rajya Sabha.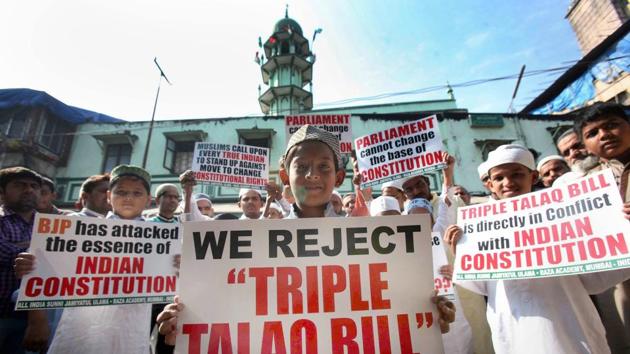 The Congress on Monday accused the Bharatiya Janata Party (BJP)-led government of trying to bypass Parliament scrutiny on the triple talaq bill and said it should be sent to a select committee of the Rajya Sabha.
Congress leader Anand Sharma told reporters that all bills should go through legislative scrutiny.
Sharma was responding to a question about the triple talaq bill finding a mention in the President's address to Parliament on Monday. President Ram Nath Kovind said the government has tabled the bill on triple talaq and hoped it will be passed soon.
"We all are in support of the Bill. But when a law is enacted it must go through legislative scrutiny," Sharma said.
He said Parliament has a duty to discharge under the Constitution. "It is duty-bound to scrutinise every bill before it is made into law," Sharma said.
The Congress leader said the government can bring in an amendment concerning subsistence to be paid to the Muslim women affected by triple talaq.
"Let the government bring the amendment if they are sincere about this bill's passage. The number of woman (to be paid subsistence) surely is small," he said.
"The government is not willing to listen, and I have a suggestion for the Prime Minister - If he is sincere in his concern about women, he should be concerned about all the women of India. Let him bring the Women's Reservation Bill in this session of Parliament," Sharma said.
Asked if the Congress will allow passage of the triple talaq bill in Parliament, he said, "The issue is not of consensus, but the issue is the government's approach. The Supreme Court has already declared it void."
The triple talaq bill has been passed by the Lok Sabha and is pending in the Rajya Sabha.