Bomb threat on China-bound Iranian passenger plane, IAF scrambles jets
Updated on Oct 03, 2022 03:57 PM IST
In a statement on Twitter, Mahan Air said the Airbus A340 passenger plane landed safely, and on time in Guangzhou and that the scare was fake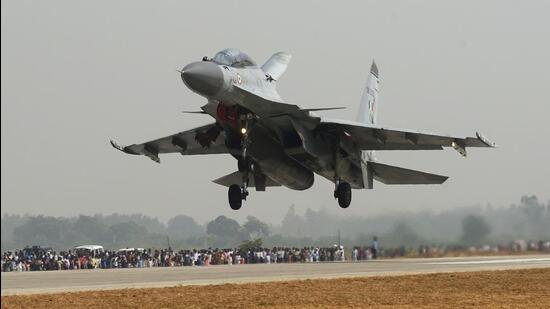 The Indian Air Force (IAF) on Monday scrambled Su-30MKI fighter jets to shadow an Iranian Mahan Air flight after its pilot chose to continue to fly to China's Guangzhou when asked to land in Jaipur or Chandigarh following inputs from Lahore's Air Traffic Control (ATC) about a possible bomb threat, which turned out to be false.
"Lahore ATC informed the Delhi ATC around 9am about the bomb threat to the flight...the Delhi ATC began the SOP [standard operating procedure]...the airline pilot after sometime informed the Delhi ATC that they will not be land in any of the Indian airports," said a Delhi airport official, requesting anonymity.
The jets shadowed the aircraft till it left the Indian airspace. The Mahan Air aircraft was moving towards Delhi airspace when the pilot was informed about the threat, an Airports Authority of India official said.
According to Flightradar24, a Swedish internet-based service that shows real-time aircraft flight tracking information on a map, the Mahan Air flight W581 fliht reduced altitude over the Delhi-Jaipur airspace briefly before making its way out of India. FlightRadar24 showed it fly in circles west of Delhi before flying across the country and into Myanmar.
A second AAI official said the aircraft was loaded with fuel and waited in the Jaipur airspace to burn some of it ahead of possible emergency landing when the Lahore ATC contacted to convey that there was no bomb on the aircraft. "It was after this clarity that the pilots decided to go ahead instead of landing in India," the official said.
As an aircraft is required to lose weight before it lands, the Iranian plane flew in circles just in case it needed to make an emergency landing.
The jets followed the Iranian aircraft at a safe distance after offering it the option to land at two airports before IAF was asked from Tehran to disregard the scare. The flight continued its journey and transited through the Indian airspace. "...the pilot declared his unwillingness to divert to either of the two airports," the IAF said in a statement.
The IAF said the aircraft remained under close radar surveillance throughout the Indian airspace.
In a statement on Twitter, Mahan Air said the Airbus A340 aircraft, which has a capacity of between 320 and 475 passengers, landed safely, and on time in Guangzhou and that the scare was fake.
Personalise your news feed. Follow trending topics