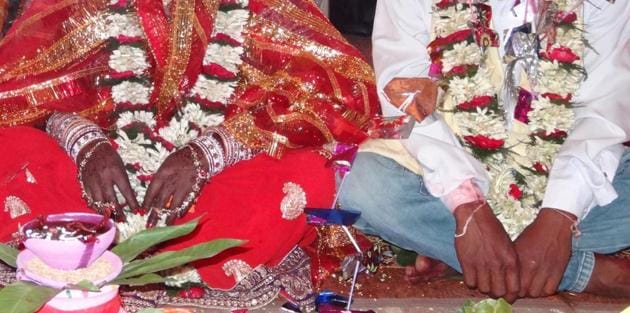 Bride refuses to marry groom 'wedded' to alcohol in dry Bihar
Bride walks out of mandap at the time of sindoordaan after spotting the groom in an inebriated condition at a village in Bihar's Buxar district.
UPDATED ON MAY 13, 2017 10:28 AM IST
PATNA Coming drunk to the wedding mandap proved to be a costly mistake for a bridegroom in 'dry' Bihar.
Bittu Pandey, a farmer, had to return single on Saturday after the young bride spurned the marriage on spotting him in an inebriated condition at the mandap.
After completing most of the marriage rituals, Rani Kumari refused to go ahead with sindoordaan, the final ritual of a Hindu marriage when the groom applies vermilion on bride's forehead.
The 24-year-old bridegroom, allegedly under the influence of liquor, was reportedly incoherent while reciting marriage hymns and could not even stand up properly for the sindoordaan.
"He is wedded to liquor, I will not marry him," the groom's family members quoted the bride as saying before she got up and left the mandap in a huff at Sujatpur village in Buxar district, 130 kms west of Patna.
The baraat (bridegroom's wedding procession) had travelled 70 kms by road from Rohtas district to the bride's village in Buxar district on Friday.
Bittu's cousin Jai Niwas Pandey told HT over phone: "The girl is adamant, but we are still trying for a rapprochement."
Jai Niwas, however, refused to confirm that Bittu was in an inebriated condition at the mandap.
"He (the groom) was absolutely fine when I last saw him at the janwasa (a place where the bridegroom and his family members assemble before embarking on the final stretch of the marriage procession). I don't know what happened thereafter. I only got to know at 4am the next day that the girl had called off the marriage, ostensibly because the boy was drunk," he said.
Bihar became a dry state on April 5, 2016. Under the state's prohibition law, consuming, keeping or dealing in liquor is an offence, which attracts imprisonment up to 10 years.
This is, however, not the first instance of a bride calling off her marriage in Bihar.
On April 29, a girl from Dumaria village in Samastipur, 85 kms north-east of Patna, had walked out of her wedding mandap before sindoordaan after the bridegroom demanded a motorcycle in dowry.
Last Wednesday, a bride refused to marry a dark complexioned groom, saying he was unsuitable for her. The bizarre incident took place at Bakhri village of Begusarai district, 125 km east of Patna.
TAKING A STAND
BLURB
On April 29, a girl from Dumaria village in Samastipur had walked out of her wedding mandap before sindoordaan after the bridegroom demanded a motorcycle in dowry
Close