Bridges near completion in remote C'garh region, yrs after Maoists kill panch for demanding one
The efforts of the villagers paid off when the government in October 2018 sanctioned two bridges at Pahurnaar and Karka. Their construction started in February 2019 and they are now nearing completion. Three more bridges were sanctioned in the region in May 2020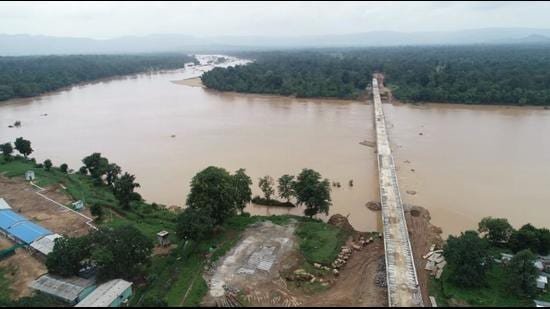 Updated on Jul 28, 2021 11:21 AM IST
When Poreseram, a village head in Chhattisgarh's remote Left-wing insurgency-hit Abujhmad, wrote a letter to the local administration in 2017 seeking a bridge over the Indravti River to help people in the region access basic health, education, and other facilities, the Maoists threatened him to withdraw the demand. Poreseram ignored the diktat and paid with his life for defying the Maoists. The killing did not deter the area's residents, who closed ranks and pursued the demand more seriously even if Maoists kill all of them. The efforts of the villagers paid off when the government in October 2018 sanctioned two bridges at Pahurnaar and Karka. Their construction started in February 2019 and they are now nearing completion. Three more bridges were sanctioned in the region in May 2020.
The bridges will connect the region of over 20,000 people with the rest of Chhattisgarh.
Dantewada police superintendent Abhishek Pallava said the Maoists summoned villagers, threatened Poreseram in February 2018, and asked him to take back their application for the construction of a bridge. He added Poreseram was killed three months later for defying the diktat." After the killing of the sarpanch (village head), villagers got united and made it clear to Maoists that they want a bridge and are ready to face any consequences," said Pallava.
The region is strategically important for the Maoists. "(They) hold meetings in these villages and carry out recruitments....," said an intelligence officer, who did not wish to be named, as he explained why Maoists opposed their construction. The officer added one of the bridges will provide access to Handawara waterfalls, which has the employment generation potential through tourism. The bridges will also help security forces set up camps in Abujmaad.
Poreseram's son, Dhani, said his father sacrificed his life for the people, who were suffering. He added he wants one of the bridges to be named after his father. "He sacrificed his life for it. The villagers also want the same hence I demand the government to consider this appeal."
Abujhmad is located near the Maharashtra-Chhattisgarh border and encompasses 6,000 square kilometre thick forest, which has not been surveyed since the British era. Officials said at least 100 villagers have lost lives their lives over the last two decades while crossing the river that divides the region from the rest of the state on primitive boats in the absence of bridges.
Close Story