Budget 2023: 'No new taxes for income till...', FM on middle class issues
Jan 23, 2023 01:49 PM IST
Attending an event on Sunday, FM Sitharaman said she identifies herself as a middle class and that she understands the trouble faced by this section.
Ahead of the budget session in the Parliament, Union finance minister Nirmala Sitharaman on Sunday said she identifies herself as a middle class and that she understands the trouble faced by this section. "I belong to middle class and identify myself as middle class so I can understand them," she said at an event organised by Rashtriya Swayamsevak Sangh's (RSS) magazine Panchjanya.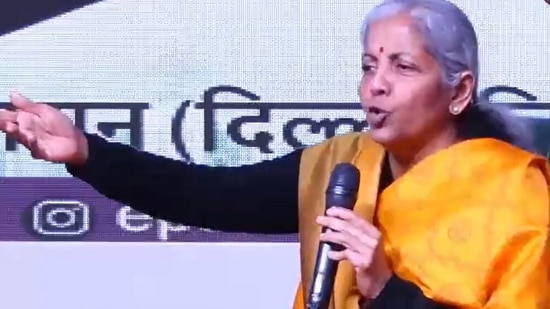 She further said that the current government has not imposed any new taxes for those who earn below ₹5 lakh annually. The Union minister also said that the Centre has taken various measures such as building smart cities, promoting ease of living and developing metro rail network addressing the issue of middle class.
Read| Sitharaman's inspiring words to student during Yuva Shakti Samvad wins hearts
Sitharaman added that the government has been increasing the outlay on the capital expenditure in each budget session since 2020. It has been increased by 35 per cent to ₹7.5 lakh crore in the current financial year, she added.
Here are Nirmala Sitharaman's top quotes from the event:
Modi government has not levied any new tax on middle class in any budget so far. No tax levied on people who earn salary up to

₹

5 lakh (annually).
Middle class uses public transport the most and we brought metro (railway) in 27 places. Lot of middle class people are moving to cities in search of jobs and we are focusing on the goal of smart cities. We will continue our work for middle class.
Modi government has been working on 4Rs – Reduce, resolve, recapitalise, reform – to reduce non-performing assets (NPA) and the health of public sector banks.
Political parties should allocate in their budget for the freebie they promise. The question they (political parties) should ask is whether the promises made by political parties before elections can be fulfilled considering the financial condition of the state.
India was among the 'Fragile Five' economies in the world in 2013. Since Modi government came to power in 2014, India's economy has undergone significant changes that have led to it now being the fastest growing economy in the world. Despite rupee fluctuating in comparison with dollar, people believe India has a stable government and there is no disbalance in policies. Indian rupee is doing well if compared with other currencies except dollar.
Foreign organisations, which come up with such indices (for economic surveys) using secondary impressions, are not government organisations. Such indices are often used to target the Indian government. We should question the methodology used by these organisations, their data and their intentions.
(With PTI, ANI inputs)