Burhan Wani's father attends funeral of Hizbul militant Sabzar Bhat
Updated on May 28, 2017 07:28 PM IST
Hizbul Mujahideen militant Sabzar Ahmad Bhat, who is believed to have succeeded Burhan Wani, was killed in a gunfight in Kashmir on Saturday.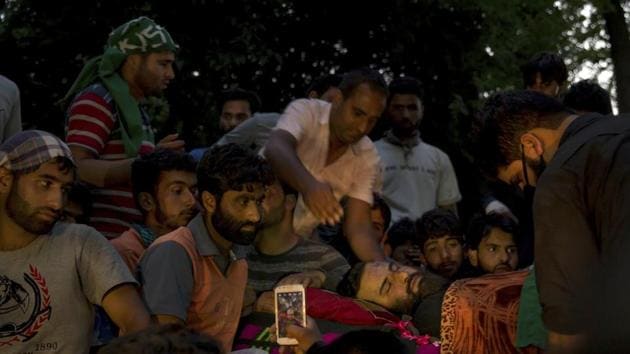 Hizbul Mujahideen militant Sabzar Ahmad Bhat was buried in his village in Pulwama on Sunday morning, a day after the 27-year-old was killed in a gun fight with security forces in south Kashmir.
His death is seen as a big breakthrough for security forces. Bhat was the local chief of the home-grown militant organisation and is believed to have succeeded Burhan Wani.
Wani's encounter death in July 2016 set off violent street protests in the Kashmir Valley that left at least 100 people, most of them civilians, dead.
Wani's father Muzaffar Wani was among the thousands of mourners, including slogan-shouting women, who defied curfew to attend the funeral in Ratsun village.
Both Bhat and Wani came from Tral and were close. They were among a group of young, tech-savvy militants who used social media to reach out to people, especially the young.
The gathering was not as big as the one for Wani's funeral. The government restricted movement of people and shut down mobile internet services to prevent a repeat of violence that rocked Kashmir after Wani's death.
A civilian was killed and more than 55 people, including 25 security men, were injured in protests that erupted after Bhat's killing.
According to reports, a large number of people reached Ratsun on Saturday but the family scheduled the burial for Sunday morning.
Eyewitnesses said many militants, too, were there but only a few of them turned up for the funeral.
Kashmiri separatist leader Yasin Malik, too, visited the family on Saturday. His Jammu and Kashmir Liberation Front is part of the separatist conglomerate the Hurriyat Conference that has called a two-day shutdown against the killing and called for a "Tral March" on May 30.
Curfew is on in some parts of Srinagar and four districts in south Kashmir, the hotbed of insurgency. The restriction will remain in place till further orders.
Bhat was killed after an overnight gunfight that broke out Friday evening when security forces were tipped off about the presence of militants in a residential area in Saimoh village in Tral.
They laid siege to the area and two militants, including Bhat, were killed. Bhat was a stone-thrower before joining Hizbul in 2015 carried an award of Rs 10 lakh on him.
Personalise your news feed. Follow trending topics