Burhan Wani's successor killed in Kashmir, civilian dead as protests erupt
Updated on May 28, 2017 10:20 AM IST
The news of Sabzar Bhat's death triggered violent protests in Pulwama, Shopian, Anantnag, Sopore, Kupwara and Srinagar. The government cut off mobile internet and separatists called for a two-day shutdown.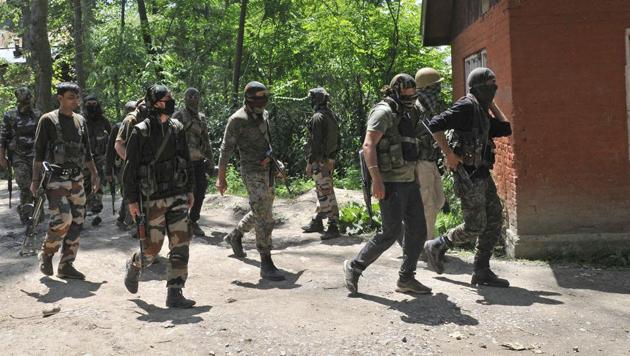 Hindustan Times, Srinagar |
Toufiq Rashid and Abhishek Saha
A top Hizbul Muhajideen commander and his associate were killed by security forces in Kashmir on Saturday, police said, sparking violent protests across the valley that left one civilian dead and many others injured.
Sabzar Ahmad Bhat, 27, believed to be the successor of slain Hizbul commander Burhan Wani, was gunned down in an overnight raid at a hideout in Tral.
The incident came within of hours of the army killing six suspected militants trying to infiltrate from Pakistan-occupied Kashmir (PoK).
Pakistan described the incidents as "extra-judicial killings" and asked the international community to stop the "ruthless killing of defenceless Kashmiris". India accuses Pakistan of waging a proxy war in Kashmir by sending trained militants.
Kashmir is on the boil since the killing of Wani -- a poster-boy of homegrown militancy -- deepened anti-India sentiments in the valley. Nearly 100 people were killed in street protests and hundreds of others were blinded or maimed by pellets fired by forces.
Recent videos of alleged human right violations by forces, including the parading of a Kashmiri man tied to an army vehicle, have also fanned public anger.
On Saturday, the government cut mobile internet as protests spread to capital Srinagar where people rushed to stock fuel fearing prolonged unrest. The separatist Hurriyat Conference called a two-day shutdown starting Sunday.
"Two militants were killed in the encounter, one has been identified as Sabzar Bhat, commander of Hizbul Mujahideen," said SP Pani, South Kashmir director general of police. Bhat carried a reward of Rs 10 lakh on him.
Reporters saw smoke billowing from the burnt out, two-storey house where Bhat was killed. One jawan was seen carrying what appeared to be two assault rifles of the slain militants.
The bearded Bhat – a contrast to the clean-shaven Wani -- was among a group of young, tech-savvy militants who used social media to spread their ideology and woo the youth to their cause.
After Wani's death, the HM named one Mehmood Gaznavi as the new Kashmir commander. It was widely believed it was an alias of Bhat.
The news of Bhat's death triggered widespread protests in Pulwama, Shopian, Anantnag, Sopore, Kupwara and Srinagar, and large parts of the valley shut down. In many places, protesters pelted stones at forces, who retaliated with pellets and bullets, sources said.
A senior Pulwama district official confirmed the death of the civilian in "crossfiring" by security forces near the encounter site in Tral in south Kashmir, which has emerged as a hotbed of militancy. Tral is around 45 km from Srinagar
Three other civilians were reportedly injured.
Hurriyat leaders said in a joint statement the strike was to protest "state terrorism" unleashed by forces on civilian protesters.
The army's Northern Command said the encounters were a result of "relentless operations" by security forces to "defeat desperate attempts by Pak and Pak-sponsored agents to spread terror in the state in the run up to the holy month of Ramzan".
It said six militants were killed in the Rampur sector of the LoC when they were trying to enter India. On Friday, forces killed two members of a Pakistani border action team known as BAT, also along the LoC.
Police sources said Bhat's killing could hurt the Hizbul Mujahideen, coming within weeks of another influential commander Zakir Musa severing ties with the outfit.
"They (HM leadership) will have to send someone from Pakistan to take charge of the organisation, which is not possible," a police official said.
The outfit – designated a terrorist outfit by India, the United States and the European Union – has mostly locally-trained militants who are facing shortage of arms and ammunition. The organisation was involved in several recent incidents of arms snatching.
HM's top leader Syed Salah-ud-din is based in PoK.
(With agency inputs)
Personalise your news feed. Follow trending topics