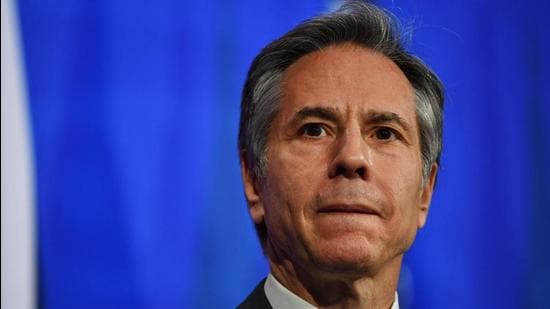 CAA, farm laws, China, Afghanistan figure in Blinken's civil society meeting
Blinken said India and the US should continue to stand together as leading democracies at a time when global threats to democracy and international freedoms are increasing.
PUBLISHED ON JUL 28, 2021 10:33 PM IST
Inter-faith relations, the farmers' protest, freedom of expression and the Pegasus spyware issue figured at a civil society roundtable held by US secretary of state Antony Blinken ahead of his meetings with the Indian leadership on Wednesday.
Concerns over the Citizenship (Amendment) Act (CAA), the deteriorating security situation in Afghanistan and China's aggressive actions were also raised by the seven civil society representatives who joined the roundtable with the theme "Advancing equitable, inclusive, and sustainable growth and development", according to participants who declined to be named.
Ahead of Blinken's visit, the US had said it intended to raise human rights and democracy during his engagements in New Delhi. The US has in the recent past spoken out on issues such as the situation in Kashmir and movements such as the farmers' protest on the outskirts of Delhi.
Besides Geshe Dorji Damdul, director of the Tibet House in New Delhi and Inter-Faith Harmony Foundation of India head Khwaja Iftikhar Ahmed, the roundtable was joined by representatives of the Ramakrishna Mission and Sikh and Christian organisations. The seven representatives spoke for a few minutes each during the roundtable that lasted almost an hour.
"The farmers protest, CAA, restrictions on the media, freedom of expression, rights of minorities, inter-faith relations and the Pegasus surveillance issue were all raised by the representatives but there was no substantial discussion on these matters," said a participant who declined to be named.
Besides issues of concern within India, regional issues such as the security situation in Afghanistan and China's aggression were part of the discussions, said another participant, who too declined to be identified.
Ahmed said he had spoken on the need for inter-faith relations to come to the centre stage while pointing out the challenges to the region due to developments in Afghanistan. "Afghanistan is a priority for both sides and it is high time for them to collaborate on this issue in the larger interest of global peace and security," he said.
The role of civil society in India also figured in the discussions, with Blinken saying in his opening remarks that democracies such as the US and India need a vibrant civil society if they are to be "more open, more inclusive, more resilient, more equitable". He added that "all people deserve to have a voice in their government and be treated with respect".
Blinken said India and the US should continue to stand together as leading democracies at a time when global threats to democracy and international freedoms are increasing. Both sides talk about issues such as democracy as friends "because doing the hard work of strengthening democracy and making our ideals real is often challenging", he said.
Referring to efforts in the US to become a "more perfect union", Blinken said that "sometimes that process is painful, sometimes it's ugly, but the strength of democracy is to embrace it". Blinken also tweeted about "India's pluralistic society and history of harmony" and said civil society "helps advance these values".
It is understood that Blinken flagged the concerns of the US regarding democracy and human rights during his talks with external affairs minister S Jaishankar.
Asked about these issues at a joint media interaction with Jaishankar, Blinken said shared values and democratic traditions "were very much a part of our conversation today". He described Indian democracy as a "force for good in defence of a free and open Indo-Pacific and a free and open world" and said both countries have "self-righting mechanisms" made up of free citizens of different faiths, a free media and independent courts powered by a system of free and fair elections.
Jaishankar said he made three points to Blinken, including the fact that the "quest for a more perfect union applies as much to the Indian democracy as it does to the American one".
In an apparent reference to the Indian government's actions such as enacting CAA, Jaishankar said it is the "moral obligation of all polities to right wrongs when they have been done, including historically, and many of the decisions and policies you have seen in the last few years fall in that category".
He also said freedoms are important but one could "never equate freedom with non-governance or lack of governance or poor governance".
Close