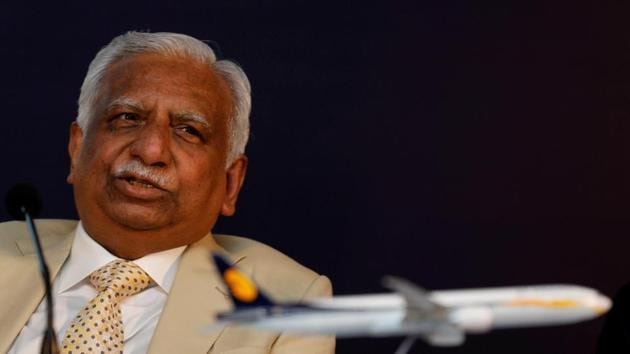 To Naresh Goyal's foreign trip request, high court's Rs 18,000 crore googly
Goyal's lawyer said that his client had to travel abroad by July 10 to preserve his NRI status and not allowing him to do so is a violation of fundamental rights.
Hindustan Times, New Delhi | By Richa Banka
UPDATED ON JUL 09, 2019 11:51 PM IST
The Delhi High Court on Tuesday refused interim relief to Jet Airways (India) Ltd founder and former chairman Naresh Goyal for travelling abroad on his plea seeking the quashing of the Lookout Circular (LoC) issued against him by the centre.
The court remarked that if Goyal wants to go abroad, he should deposit a guarantee of Rs 18,000 crore.
Justice Suresh Kait, however, issued notices to the ministry of home affairs, ministry of corporate affairs and ministry of law and justice, seeking to know their stand and fixed August 23 as the next date of hearing.
Goyal had moved the Delhi High Court challenging the LoC issued against him following which he, along with his wife, was deboarded from the aircraft flying to London via Dubai from Delhi on May 25.
According to the plea, Goyal was travelling abroad for some meetings with foreign investors who had reportedly showed some interest in the defunct airline. The plea said despite repeated requests, Goyal was not given a copy of the LoC and alleged that his name was not mentioned in any FIR and hence he is "not an accused".
Appearing for the centre, additional solicitor general Maninder Acharya said it was a serious case with an alleged fraud of Rs 18,000 crore and the investigations are underway. He sought four-week time to file documents.
Senior advocate Maninder Singh, appearing for Goyal, contended that his client was going for a meeting with the investors. He said not allowing his client to travel abroad is a violation of his fundamental rights. However, the court said, "The rights of a person to visit abroad are limited. It is not that you will commit a crime and will go abroad."
Singh submitted that there was no evidence or material given by the officials to show that his client (Goyal) evaded investigation. He said there was no evidence against him but on July 6 when the matter came up for hearing, his client received summons from the Serious Fraud Investigation Office to appear before it on or before July 10.
Following this, the court remarked, "Can't investors be spoken to over the phone, digitally. Money can be transferred through RTGS and other methods." It also observed that at several instances in pending cases, the person runs abroad and then the government has to spend crores of rupees to get them back.
Seeking interim relief, Singh also argued that if Goyal is not allowed to fly abroad he might not retain his non-resident Indian status. To this, the judge observed, "No interim relief can be granted to Goyal at this stage. "If you are ready to deposit Rs 18,000 crore bank guarantee, you can go abroad".
According to the corporate affairs ministry, LoC against Goyal was issued after an inspection by the ministry found large-scale irregularities at Jet Airways, which is undergoing insolvency proceedings.
Also read | Airlines told to prep for bad weather, carry fuel to fly to 2 other airports
Close