Chhattisgarh top cop Kalluri posted back to police HQs from Bastar: Here's why
Updated on Feb 08, 2017 08:21 PM IST
On February 7, Kalluri was posted back at the Jharkhand police headquarters in Raipur with "immediate effect", potentially ending an embarrassing standoff between the controversial officer and the state administration.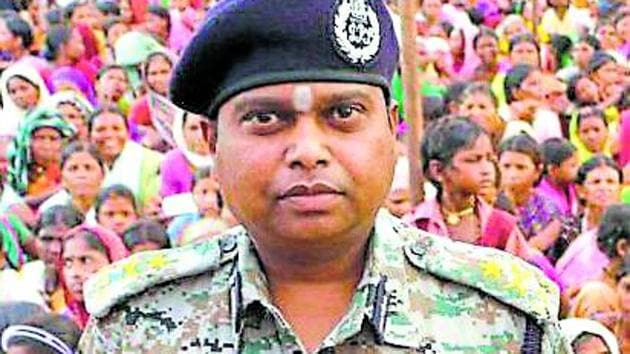 "Dear friends, I have come back to Jagdalpur just now to join my wife and children," Bastar's Inspector General SRP Kalluri wrote on Feb 6 on his Whatsapp group, his favoured mode of communication, "I have called DGP CG Shri Amarnath Upadhyay IPS and requested him to post me elsewhere."
On February 7, Kalluri was ordered to back to police headquarters in Raipur with "immediate effect", bringing the embarrassing standoff between the controversial officer and the state administration to a temporary hiatus.
The PHQ posting is a rare rebuke for an officer who has enjoyed the unstinted support of the state government despite allegations of intimidating journalists, terrorising rights activists and overseeing violent military operations that are the subject of separate investigations by the National Human Rights Commission (NHRC) and the Supreme Court.
Read | Kalluri gone, Bastar top cop says media won't be harassed in Maoist heartland
Interviews with a range of sources in the police and government suggest that Tuesday's transfer orders owe more to the compulsions of realpolitik than any altruistic concern for human rights on the part of Raman Singh's BJP government.
"The government has always appreciated Mr Kalluri's role in fighting Maoism, but any government must consider a whole range of factors including the NHRC," said a senior official, adding that the government was unsettled by the implications of the rights commission's January 7 prima facie findings that members of the Chhattisgarh police had raped at least 16 adivasi women in Bijapur in 2015-16.
On January 30, senior members of the administration and police met with the NHRC once more. The meeting, which lasted over 2 hours, is believed to have convinced the government to change its position.
"The police hierarchy had assured the chief minister they would manage the NHRC," said a member of the CM secretariat, "After the NHRC session, the government was worried that it could be held responsible for the excesses by the police."
Accordingly, he was sent on medical leave on February 2. The next day, police officials submitted a six point action plan to protect human rights in Bastar which included the creation of district level human rights committees.
Yet Kalluri continued to rail against the government on his Whatsapp group. "Bela Bhatia wins… going on long leave.. sorry for failing you," he wrote in one such missive, an allusion to the human rights activist who had been attacked at her home in Jagdalpur on January 23, 2017 by a mob who accused her of supporting Maoists.
The attack on Bhatia prompted a national outcry, forcing the CM to assure her she was free to continue her work . Finally when he announced his return to Bastar on February 6, the government, officials said, had enough.
Personalise your news feed. Follow trending topics