China did the calculations before backing off from urging India to join Belt and Road Initiative
Updated on Apr 29, 2018 07:02 PM IST
Beijing has realised that it is possible to have economic cooperation with India outside the BRI which India opposes because part of it passes through Pakistan-occupied Kashmir.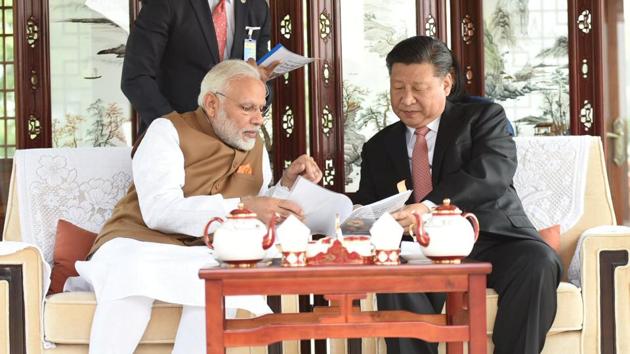 Hindustan Times, Beijing |
Sutirtho Patranobis
China's decision to temporarily back off from convincing India to join the Belt and Road Initiative (BRI) during the Wuhan summit between Prime Minister Narendra Modi and President Xi Jinping could be based on carefully considered reasons.
Beijing has realised that New Delhi will not budge from its position that one of the flagship projects under the BRI, the China-Pakistan Economic Corridor (CPEC) violates its sovereignty as it passes through Pakistan-occupied Kashmir (PoK). India has officially put forward this position far too many times to back out now.
Second, Beijing has recognised that it is possible to have economic cooperation with India outside the BRI.
Bilateral trade, for one, reached a record high of $84.4 billion, up 20.3% from 2016, the fastest growth for five years. According to official Chinese data, trade in Q1 of the current year hit $22.1 billion, up 15.4 percent year on year.
Only last Monday, India was the only country not to express support for the BRI at the Shanghai Cooperation Organisation (SCO) foreign ministers' meeting in Beijing. India and Pakistan joined the SCO last year.
External affairs minister, Sushma Swaraj did not express support for the BRI the joint communique released after the foreign ministers' meeting.
Seven other foreign ministers from Kazakhstan, Kyrgyzstan, Pakistan, Russia, Tajikistan and Uzbekistan "reaffirmed support for China's Belt and Road proposal", the communique said.
In the air of bilateral bonhomie created by the Modi-Xi "informal summit", Chinese vice-foreign minister Kong Xuanyou told reporters that China does not think it is important whether India accepts China's Belt and Road infrastructure project and China won't force it to.
He also played down differences over the BRI and said China wasn't concerned by India not supporting it as long as they both shared common interests on connectivity.
"When it comes to connectivity my impression is that China and India do not have any principled disagreements," Kong said.
According to Kong, Modi and Xi did not talk about the specific wording or expression of the Belt and Road. "But many things China and India are planning to do are in keeping with what the BRI stands for," he said, including the industrial parks China is building in India.
Kong also mentioned the Bangladesh, China, India, Myanmar (BCIM) corridor that predates the BRI but which Beijing has included as one of the six flagship economic corridors under the BRI.
Kong said China sees the BCIM as "an important part of the BRI".
"India does not oppose the BCIM and in fact is cooperating with us on it, and it is progressing very smoothly."
China will be happy of course that all other south Asian countries are either part of the BRI or have expressed support for it.
For Beijing and New Delhi, the tough task will be it to set aside the differences over BRI and look for convergences in other economic sectors and connectivity projects.
Personalise your news feed. Follow trending topics