Congress pauses Bharat Jodo Yatra over 'security lapse', J&K police reject charge
Jan 28, 2023 12:39 AM IST
Congress leader Rahul Gandhi had to curtail his scheduled 16-kilometre foot march on a day the Bharat Jodo Yatra entered the Kashmir valley in its last leg after the Congress alleged a "serious security breach" and inadequate arrangements by the Jammu and Kashmir police
Srinagar: Congress leader Rahul Gandhi had to curtail his scheduled 16-kilometre foot march on a day the Bharat Jodo Yatra entered the Kashmir valley in its last leg on Friday after the Congress alleged a "serious security breach" and inadequate arrangements by the Jammu and Kashmir police.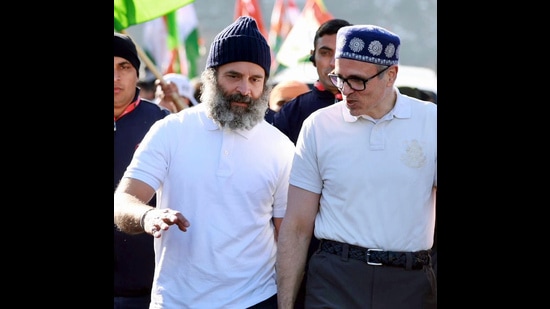 Gandhi said that amidst thronging crowds that had broken the cordon around him, his security team -- he is provided Z-plus security cover by the CRPF-- were uncomfortable with him walking any further, and he was then escorted in a vehicle to Anantnag. The Jammu and Kashmir police, however, denied any security lapses, saying that the organisers of the yatra had not intimated them about the large crowds that would join from Banihal and had not consulted them on the discontinuation of the yatra either.
The Bharat Jodo Yatra, a foot march led by Gandhi set off from Kanyakumari on September 7 and is scheduled to end in Srinagar on January 30.
On Friday morning, the yatra set off from Banihal in Jammu, with Gandhi joined by National Conference vice-president Omar Abdullah. Around 11am, they crossed the 8.45-kilometre-long Navyog tunnel that is the entry point into the Kashmir valley, with Gandhi and Abdullah leading a march of over 1,000 Congress workers and volunteers.
Near Qazigund, 13km from Banihal, Congress leaders alleged, the security cordon around Gandhi was breached by a surging crowd, after which he was advised to board a waiting vehicle, and travel onwards to Anantnag. "This morning we had a large reception and crowd after crossing the tunnel. We were looking forward to walking but unfortunately the police arrangement collapsed. The police people who were supposed to manage the crowds and hold the rope were nowhere to be seen," Gandhi said at a press conference later in the afternoon.
Gandhi said that his security team were uncomfortable with the security arrangements and requested him to curtail the march. "So I had to cancel my walk while the other yatris continued. It is the responsibility of the administration to guarantee crowd control and police role. I don't know why it happened but it should not happen tomorrow and the day after," Gandhi said.
Jammu and Kashmir Congress president Vikar Rasool said, "At one point, when we started looking for the cordon rope held by policemen around Rahul Gandhi, it wasn't there. We waited for an hour for security personnel to put a fresh cordon but nobody arrived."
Jairam Ramesh, Congress general secretary in charge of communications, characterised Friday's lapse as the "biggest since the yatra started."
"The security team of Rahul Gandhi and Jammu and Kashmir government's security officials are discussing what happened today should not be repeated," Ramesh said.
The Jammu and Kashmir police refuted the allegations and said only authorised people identified by the organisers were allowed inside the cordon after being frisked. "Organisers & managers of BJY did not intimate about large gathering from Banihal joining the Yatra, which thronged near the starting point," J&K police tweeted.
They further said that 15 companies of the Central Armed Paramilitary forces and 10 companies of the Jammu and Kashmir police, including road opening parties, quick response teams had been deployed. "Jammu and Kashmir police was not consulted before taking any decision on discontinuation of yatra…There was no security lapse at all. We will provide foolproof security," the police tweeted.
Former state Congress president Ghulam Ahmad Mir and one of the principal organisers during this leg of the yatra said that they had given a full representation to officials and there "should have been no confusion".
BJP state president Ravinder Raina said when people of J&K stayed away from Rahul Gandhi's yatra, he raised false propaganda about the security issue. "This is false propaganda about security of the yatra. There is proper security in place along J&K for this yatra. When people didn't come to attend the yatra, Rahul Gandhi fabricated a false security issue," Raina said.
BJP state spokesperson Altaf Thakur said: "There was no security breach. Full security arrangements were made for the yatra. The Congress party needs to understand that lies won't work, people are wise enough and they know why the issue was raked up."
On Saturday, the yatra will resume from Chersoo in Awantipora and culminate at Pantha chowk. Over the final few days, Rasool said that PDP leader Mehbooba Mufti would also join the yatra. On Sunday, it will enter Srinagar where Gandhi will hoist the tricolour at the party office on MA road, culminating in a rally at the Sher-e-Kashmir stadium on January 30.