Covid-19: India eases hydroxychloroquine, paracetamol export restrictions
Updated on Apr 07, 2020 12:53 PM IST
Covid-19 update: India had restricted the exports of pharmaceutical ingredients and medicines on March 3. Paracetamol and its formulations accounted for two items on the original list.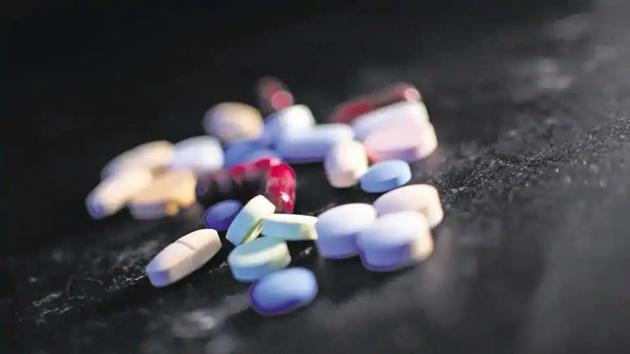 Hindustan Times, New Delhi |
Rezaul H Laskar
India has partially eased restrictions on the export of anti-malarial drug hydroxychloroquine and paracetamol, cited by some as key to the fight against Covid-19, to fulfil existing orders and to meet the needs of neighbouring countries.
People familiar with developments, who spoke on condition of anonymity, said existing orders from other countries for hydroxychloroquine and paracetamol will be cleared only after meeting all domestic requirements.
The external affairs ministry said the two drugs will also be supplied in "appropriate quantities" to all neighbouring countries dependent on India's capabilities.
Follow latest updates on coronavirus here
India, the largest producer of hydroxychloroquine, initially banned exports of the drug on March 25 to ensure adequate domestic supplies. Rules were tightened on April 4 by barring exports of hydroxychloroquine and formulations made from it from special economic zones (SEZs) and export-oriented units (EOUs). Such bans don't usually apply to SEZs and EOUs, which are meant to promote exports.
Also Watch | Donald Trump hints at 'retaliation' if India withholds hydroxychloroquine exports
However, US President Donald Trump and Brazil President Jair Bolsonaro have called on India to permit the supply of the drug to cope with Covid-19 cases in their countries. On Monday, Trump also spoke about "retaliation" if India didn't lift its hold on US orders.
Also read: Coronavirus case count to guide India's lockdown future
"There has been a partial lifting of the ban, and hydroxychloroquine and paracetamol exports will continue to be restricted," said one of the people cited above who declined to be named.
"Depending on availability of stocks of hydroxychloroquine after meeting domestic requirements, existing orders will be cleared," the person said.
The department of pharmaceuticals under the ministry of chemicals and fertilizers and the external affairs ministry will decide on allocations on a case-to-case basis, depending on the humanitarian situation related to the Covid-19 pandemic, the people said.
External affairs ministry spokesperson Anurag Srivastava said paracetamol and hydroxychloroquine "will be kept in a licenced category and their demand position would be continuously monitored". He added, "However, the stock position could allow our companies to meet the export commitments that they had contracted."
Also read: Trump talks of 'retaliation' if India turns down anti-malarial drug request
Srivastava said India has decided to "licence paracetamol and hydroxychloroquine in appropriate quantities to all our neighbouring countries who are dependent on our capabilities" because of the humanitarian aspects of the pandemic.
"We will also be supplying these essential drugs to some nations who have been particularly badly affected by the pandemic," he added.
Trump, who has repeatedly advocated the use of hydroxychloroquine to fight Covid-19 despite opposition from some of his top advisers, told a White House briefing on Monday that there could be "retaliation" if India turns down his request to lift the hold on US orders.
The US president had requested the lifting of the hold on hydroxychloroquine exports during a telephone call with Prime Minister Narendra Modi on Sunday. The US had placed orders for the medicine in March.
"I said we'd appreciate you allowing our supply to come out. If he doesn't allow it to come out, that would be okay but, of course, there may be retaliation. Why wouldn't that be?" Trump said.
Click here complete coronavirus coverage
"I don't like that decision," Trump said, referring to India's move to bar exports of hydroxychloroquine. "I didn't hear that was his [Modi's] decision. I know that he stopped it for other countries. I spoke to him yesterday [Sunday]. We had a very good talk, and we'll see whether or not that's his decision. I would be surprised if he would you know because India does very well with the US."
Trump also reiterated his long-standing grievances on trade issues with India, saying: "For many years they've been taking advantage of the US on trade. So I would be surprised if that was the decision. He'd have to tell me that."
Brazilian President Bolsonaro, facing tremendous pressure at home for his handling of the Covid-19 crisis, too, said he had sought supplies of hydroxychloroquine from India. "I asked the PM of India for his support in continuing the supply of pharmaceutical inputs for the production of hydroxychloroquine. We will spare no effort to save lives," he tweeted.
The people cited above said more than 20 countries from around the world have sought supplies of hydroxychloroquine from India. The new partial easing of the ban will offer a way out in coping with this situation, but only after ensuring there are adequate supplies to meet domestic needs, the people said.
External affairs ministry spokesperson Srivastava said the Indian government's first obligation was ensuring "adequate stocks of medicines for the requirement of our own people". Temporary steps were taken to restrict exports of a number of pharmaceutical products and a comprehensive assessment was made of possible requirements under different scenarios, he said.
"After having confirmed the availability of medicines for all possible contingencies currently envisaged, these restrictions have been largely lifted. The DGFT has notified lifting restrictions on 14 drugs [on Monday]," Srivastava said.
In view of the enormity of the Covid-19 pandemic, India has maintained the world community "must display strong solidarity and cooperation" and this approach has guided New Delhi's evacuation of nationals of other countries, he said.
The Indian Council of Medical Research has said: "Hydroxychloroquine is found to be effective against coronavirus in laboratory studies and in-vivo studies. Its use in prophylaxis is derived from available evidence of benefit as treatment and supported by pre-clinical data."
India's National Taskforce for Covid-19 has recommended the use of hydroxychloroquine for infections among "asymptomatic healthcare workers involved in the care of suspected or confirmed cases of Covid-19" and "asymptomatic household contacts of laboratory confirmed cases".
Personalise your news feed. Follow trending topics