'Cracks not leaving us behind': Many families in Joshimath stare at second rehabilitation
Jan 15, 2023 11:39 PM IST
Panic-gripped residents scrambling to collect their belongings and evacuate their cracked homes in Joshimath has become a routine sight over the past few weeks due to largescale land subsidence in the temple town
Joshimath: Panic-gripped residents scrambling to collect their belongings and evacuate their cracked homes in Joshimath has become a routine sight over the past few weeks due to largescale land subsidence in the temple town. For some families, however, tragedy has struck for a second time.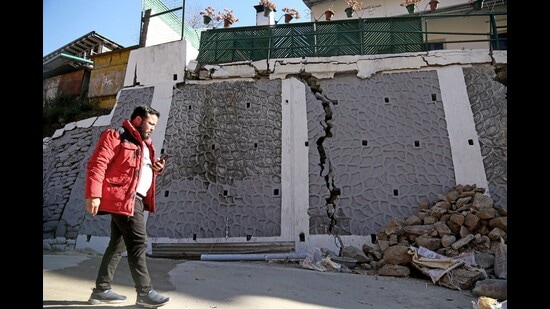 Banke Lal and his family were rehabilitated to Chunar village from their native Chaien village (both villages fall under Joshimath tehsil and are 15 km apart) after their house became "inhabitable" due to a hydropower project in 2007. Now 15 years later, the family is staring at another rehabilitation as the house they live in has developed cracks due to subsidence.
"Cracks are not leaving us behind, where should we go?" Lal said.
In 2007, his family received around ₹3.5 lakh as compensation from the Uttarakhand government for their damaged house, Lal said and added that he spent around ₹15 lakh to build a house in Chunar.
"We had built our new house in Chunar village using our hard-earned money in hope that we would start a new life, leaving behind horrific memories," said Lal. "Now, this house has also developed cracks. Though they are not very big, I suspect they would widen since the situation in the town is aggravating with each passing day."
Lal, who works as a labourer, said cracks have also appeared in the fields where his two cows are tied for grazing. He said his family is heavily dependent on the cattle for their livelihood.
"My income is not stable. I don't get to work every day. If we again have to shift to somewhere else, it would destroy us mentally," he said. "The cracks had started appearing in our house seven months ago. But they got wider after the intervening night of January 2 and 3."
In the same village lives Jagmohan Negi, who also shifted from Chaien after his house was declared unsafe. Negi, however, claimed he was yet to receive the compensation amount.
"We had bought a piece of land in Chunar near Joshimath town many years ago. After our house in Chaien was declared unsafe to live in, we shifted here in 2015," said Negi. "I spent ₹40 lakh for building this house, but now cracks run everywhere in the house. They are getting wider with each passing day. We came here hoping we would stay here till our last breath."
"If we are asked again to go somewhere else, where would I take my three children. I earn ₹10,000- ₹12,000 a month working in a private job," he said.
Bijender Panwar, the gram pradhan of Chaien, said, "When the cracks started appearing in houses of Chaien in 2007 due to a hydropower project, 22 families were shifted to Chunar village near Joshimath. They were paid ₹3,65,000 each for rehabilitation. Some families, however, didn't take the amount saying it was too low."
Some families, the village chief added, refused to shift to Chunar and got their houses repaired with the assistance money instead.
Sateshwari, who still lives in Chaien despite her house developing cracks years ago, said, "Every land is unstable now. We feel we took the right step by not moving to Chunar, where the government was providing us land."
"When we raised our voice for help, nobody paid heed," she said. "Now, when a similar situation has arisen in Joshimath, everybody is talking about it. Had they learnt from our situation, the Joshimath crisis could have been prevented."