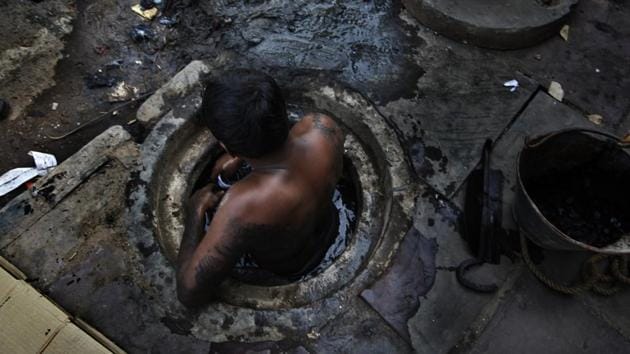 Creators of robot that cleans sewers get PMO invite
The 'Bandicoot' is a four-legged spider-shaped device that cleans clogged manholes with the help of attached equipment.
UPDATED ON FEB 27, 2018 05:15 PM IST
A day after the Kerala government decided to employ robot 'Bandicoot' to clean manholes on a pilot basis, startup firm Genrobotics received an invitation to the Prime Minister's Office (PMO) for a demonstration.
Jitendra Singh, minister of state for the PMO, on Wednesday invited engineers to New Delhi.
"We have already done our demonstration before Union minister for sanitation Uma Bharati and other officials last week. They were impressed. After this, we got an invitation from the PMO," said Vimal Govind, CEO of Genrobotics. The project is being funded by the Kerala Startup Mission, an agency of the state government.
Singh's office confirmed that the invitation was sent out.
Read: Kerala startup finds robotic solution to end sewer cleaning deaths
At the official roll-out, chief minister Pinarayi Vijayan said Kerala will gradually end manual scavenging by employing robots throughout the southern state. "I hope this new technology will help bring an end to the dangerous practice of cleaning sewers manually," he said.
An increase in the number of deaths of manual scavengers prompted nine engineering students of the MES College in Kuttipuram in Malappuram district to develop a robot.
The 'Bandicoot' is a four-legged spider-shaped device that cleans clogged manholes with the help of attached equipment. Once installed atop a clogged sewage line, a wire carrying a camera goes inside the hole and beams pictures on the screen atop. After gauging the problem, the robot dismantles itself from the main machine and enters the hole with appropriate tools, such as a shovel or a jet pipe, depending on the magnitude of the problem. If the quantity of slur inside is high, the robot takes it to the top using a bucket.
The scientists claim that a robot only needs 30 minutes to finish the amount of work done by three workers in three hours. In January, the Kerala Water Authority, which manages the sewage department in the state, had placed orders for 50 such robots.
Although the creators of the robot want to put an end to manual scavenging, they don't want to leave people jobless. "Even a small boy can operate our system. We will train these workers. It is their product. We are planning to move a proposal under the Prime Minister's Swacch Bharat campaign to train them," said Govind, who recently visited Taiwan for a presentation on the project.
Another engineer said that discussions are still on to produce these machines commercially.
Close