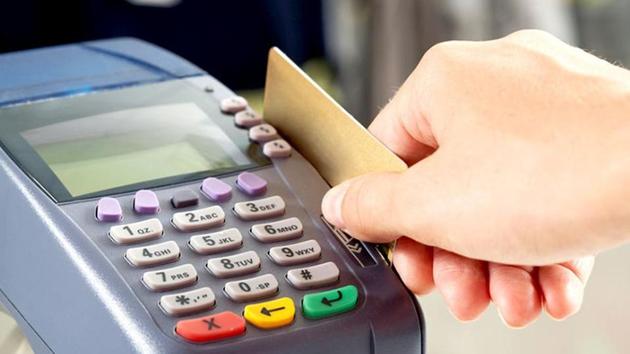 Customers forced to pay transaction fee for using cards in small towns
Shop owners in many parts of the country are unlawfully charging a premium from customers who pay with cards.
UPDATED ON JUN 24, 2017 11:08 PM IST
Shop owners in many parts of the country have resumed charging unlawfully a premium from customers who pay with cards, undermining the government's efforts to promote digital payments.
The agreement retailers sign with banks for card-swipe devices — technically called point-of-sale (POS) terminals — contains a clause forbidding them from charging customers for the facility.
But the malpractice is growing, especially in smaller towns and among a section of smaller stores in big cities, say trader body officials.
There is no official data but trade bodies back anecdotal evidence of the malpractice spreading. "Transaction charges are one of the major deterrents in adoption of digital payments in the country and we are aware of this... Neither the traders nor the consumers should be made to bear the charges," said Praveen Khandelwal, secretary general, Confederation of All India Traders (CAIT).
The charges, called Merchant Discount Rate, are divided between the banks involved in the transaction, the firm that installed the POS devices and payment gateway companies such as Visa and MasterCard. The Reserve Bank of India capped the MDR on debit card use at 0.5% for transactions of up to Rs 1,000, 0.75 % for those up to Rs 2,000 and 1% for those more than Rs 2,000. There is no cap on MDR in credit card transactions but banks usually charge up to 2%.
MDR was suspended shortly after the November decision by the government to scrap 500-and 1,000-rupee notes, a move that led to a severe cash crunch after 86% of the currency was taken out of circulation.
The demonetisation exercise was targeted at weeding out fake currency and 'black money' — cash hoarded illegally to evade taxes. The government subsequently announced a push for digital payments, which leave a trail and make it harder for people to hide dodgy cash.
"When I refused to pay the additional charge, the shopkeeper refused to accept my debit card and asked me to pay in cash... I did not have cash and so I agreed to pay the additional fee," said Nitin Sharma, a resident of Gurgaon's DLF Phase V, who was out buying ceiling fans from a store at Sikanderpur market.
Traders defend the practice, saying the charges eat into their profits.
"Say, a shopkeeper keeps a margin of 5%. If he or she has to pay 2%, it is a dent on the income. Therefore, the government needs to frame a scheme to ensure that the banks do not charge this money," Khandelwal said. He also called for a policy of incentives such as tax breaks for businesses that switch to digital payments.
A senior executive of a private sector bank said they can do little about it.
"It is not a problem of the bank... it is a matter between a shopkeeper and a customer... We are not involved... the issue has come to our notice but there is little that the banks can do about this," the executive said.
Bejon Misra, consumer policy expert and founder of Consumer Online Foundation said the issue must be addressed quickly.
"The problem is due to ambiguity from the government... there must be a clear guideline from the government outlining the penal action that can be taken against retailers who indulge in this kind of unfair trade practices," Misra said.
Close