Deaths in pothole accidents on roads frightening, says Supreme Court
Published on Sep 18, 2018 10:32 PM IST
The Supreme Court observed that since states were constructing roads, they were also obliged to maintain them.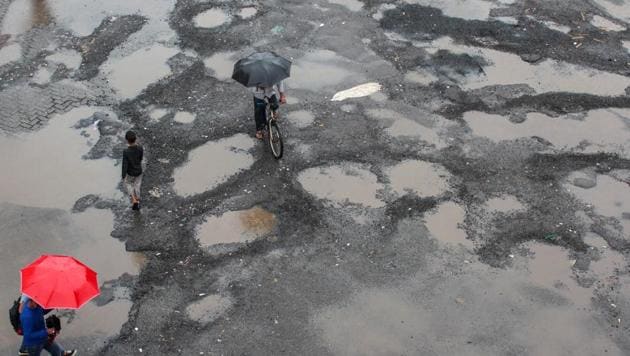 Hindustan Times, New Delhi |
HT Correspondent
Even as 3,600 deaths took place in 2017 in road accidents due to potholes, states have no compensation policy for those killed and no plan to punish erring road contractors, the Supreme Court was informed on Tuesday.
Data on road safety and the death toll was presented by the Union ministry of road, transport and highway (MoRTH) at a recent meeting convened by the SC-appointed Justice KS Radhakrishnan committee on road safety.
Advocate Gaurav Agarwal, who represents the committee, submitted the minutes of the meeting to a bench of justices MB Lokur and Deepak Gupta.
In the meeting, states admitted there was no provision for taking action road contractors at fault and that no compensation policy was in place for those killed in accidents due to potholes.
Agarwal also pointed out that states have not earmarked sufficient funds to maintain roads.
States, however, dispute the data provided by the ministry to the committee. The court was surprised as the data in question was provided to the Centre by the states themselves. "We are surprised that state governments have disputed the data sent by them to the MoRTH," said Justice Lokur, adding "the views of the states are unfortunate."
The court observed that since states were constructing roads, they were also obliged to maintain them. "How can the states say that they cannot maintain roads? Why are they (states) giving money to contractors for roads if they have no money to maintain them? Who will maintain roads? Are the people supposed to maintain them? Let's demolish the roads," it added.
The court also recalled an earlier order in which it was observed that the number of deaths due to road accidents was more than the fatalities caused by terrorist attacks in India, add that the situation was "frightening". The court then gave states a month's time to come up with a comprehensive plan to deal with the issue. They have to place their views before the road safety panel, which will come back to court in November.
(with PTI inputs)
Personalise your news feed. Follow trending topics