Delhi's Kirti Nagar, Lucknow's Gudamba among India's top 10 police stations
Hindustan Times, New Delhi/Lucknow |
HT Correspondent
Jan 07, 2018 11:27 AM IST
The three top police stations in the list were RS Puram (Coimbatore), Panjagutta (Hyderabad) and Gudamba (Lucknow).
Lucknow's Gudamba and Delhi's Kirti Nagar are among the top ten performing police stations in the country, a survey conducted by the Intelligence Bureau found.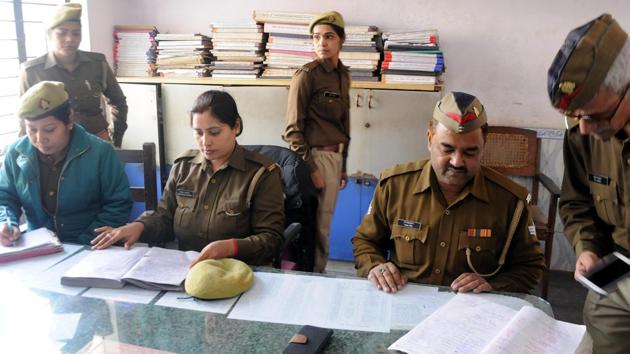 The three top police stations in the list were RS Puram Police Station (Coimbatore), Panjagutta Police Station (Hyderabad) and Gudamba Police Station (Lucknow). Kirti Nagar ranked 10th in the list.
Union home minister Rajnath Singh made the announcement on Twitter on Saturday after attending the inaugural session of the Director Generals Conference 2017 at Border Security Force (BSF) Academy in Tekanpur near Gwalior, Madhya Pradesh..
Well-maintained records, clean premises, courteous staff and good police response time were parameters that helped Gudamba police station bag a spot. "I still cannot believe that our police station has been ranked among top three police stations of the country. It is a matter of pride that our hard work is being recognised at the national level," said Ram Surat Sonker, inspector of Gudamba police station.
The Kirti Nagar police station in-charge, Anil Sharma, also expressed happiness over the achievement: "It is a proud moment for all of us. The idea is not just to increase the competitiveness among police stations but also to improve policing," he told HT.
The survey conducted by Intelligence Bureau through Quality Council of India team identified 10 best police stations across the country during an eight-month long exercise evaluating police stations on about 80 parameters regarding performance, infrastructure and amenities.
After the 2017 conference, the home minister had entrusted security managers to identify ten best police stations in the country after which Quality Council of India was roped in as a third party to judge and pick best police stations.
Here's the full list:
S Puram ,Coimbatore (1)
Panjagutta , Hyderabad (2)
Gudamba, Lucknow (3)
Dhupguri, Jalpaiguri (4)
K4 PS, Anna Nagar, Chennai (5)
Banbhoolpara, Nainital (6)
Ghiror, Mainpuri (7)
Rishikesh, Dehradun (8)
Valapattanam, Kannur (9)
Kirti Nagar, New Delhi (10)