Do whatever you want but don't use Balasaheb's name: Uddhav Thackeray's message to rebels
Published on Jun 25, 2022 03:22 PM IST
"Seek votes in your father's name, not Balasaheb's, Uddhav ji said," Shiv Sena MP Sanjay Raut said after Saturday's meeting. Shiv Sena will approach the Election Commission against the use of the name Sena and Balasaheb Thackeray by any party.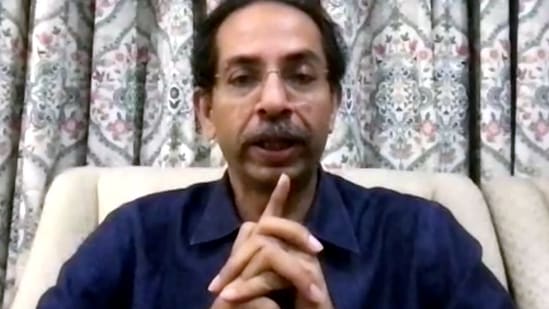 Maharashtra chief minister Uddhav Thackeray on Saturday said no one should use Balasaheb Thackeray's name after the rebel group led by Eknath Shinde announced that they would name their group 'Shiv Sena Balasaheb'. "Some people are asking me to say something but I have already said that they (rebel MLAs) can do whatever they want to do, I won't interfere in their matters. They can take their own decision, but no one should use Balasaheb Thackeray's name," Uddhav said. The national executive of the party which met on Saturday amid the escalating crisis passed a resolution to not allow the use of the name 'Shiv Sena' and 'Balasaheb Thackeray' by any group. The party will be approaching the Election Commission in this regard.
Follow LIVE updates of Maharashtra political crisis
Rebel Sena MLA Deepak Kesarkar announced the decision to name the Eknath Shinde Faction Shiv Sena Balasaheb as they have been claiming to be the real followers of Balasaheb. The splinter group will not merge with any party, they said, dismissing speculation that the revel MLAs will join the BJP.
"Uddhav ji said that if they want to seek votes, they must beg for it in their father's name," Shiv Sena MP Sanjay Raut said.
'End Uddhav Thackeray's goondaism...': Navneet Rana's message for Amit Shah
Though Uddhav was supposed to chair the meeting from Matoshree, he reached the party headquarters at Dadar on Saturday for the meeting.
The political crisis in Maharashtra witnessed several twists and turns with Sena taking its steps back from the much-speculated collapse of the Maha Vikas Aghadi government in the state to give a tough fight to the rebellion.
In the last two days, Thackeray has interacted with his party workers several times and made his and his party's stand clear. In his interactions, he disclosed that he had suspected this rebellion and even talked to Eknath Shinde who had claimed that many Sena MLAs were willing to go with the BJP. "Such a question does not even arise," Uddhav said on the issue of joining hands with the BJP.
Personalise your news feed. Follow trending topics