Doctors remove 80kg of polythene waste from cow's stomach after 3-hour operation
Feb 20, 2018 07:26 AM IST
The six-year-old cow was operated on at Patna's Bihar Veterinary College where doctors removed the plastic waste from the animal's stomach. The government plans to raise awareness on the dangers of such waste in our environment.
Doctors removed 80kg of polythene waste from the stomach of a cow at Patna's Bihar Veterinary College on Wednesday, highlighting the disastrous impact plastic bags can have on the health of stray animals that often eat out of garbage bins.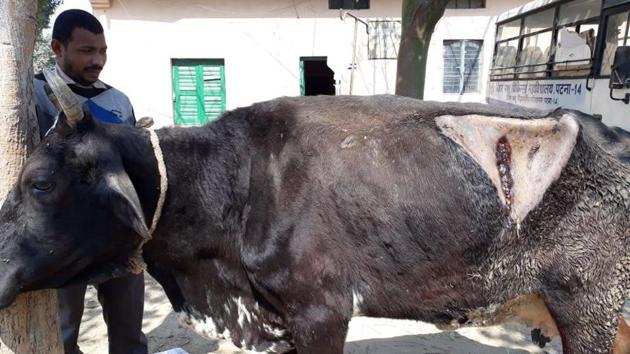 Dr GD Singh, assistant professor at the department of surgery and radiology in the college who led the team that performed the surgery on the six-year-old cow, said it took over three hours to clean the four compartments of the animal's stomach which contained mostly polythene of thickness below four microns.
"This is the first case in my 13 years of professional practice when we removed over 80kg of polythene waste from the stomach of a cow," he said.
The government has indicated it plans to address the danger posed by plastic waste with greater seriousness.
"It is the beginning of the end of the plastic menace," environment minister Harsh Vardhan said at a conference on Monday while announcing that India would host the World Environment Day 2018 with a focus on plastic pollution.
"For our animals too, especially cows and other animals, so much plastic is found in their stomachs it is so hard for them," he had said in September
Cows swallow food and bring it back to the mouth to chew it before sending it to the stomach, which has four chambers. Plastic getting deposited in the stomach causes slow absorption of nutrients and other complications that can lead to the animal's death.
"The animal is recuperating and has been discharged. But in such condition, the next 10 days are very critical as the rumen microflora becomes inactive, creating loss of appetite. Prognosis in this type of cases is grave if they are reported very late," said Dr Singh, who was assisted in the surgery by Dr Ravi Ranjan Kumar, five interns and compounder Madhu Kumar.
Dr Singh discouraged owners from allowing their animals graze in urban areas. "People should also avoid throwing eatables in polythene bags and serious efforts should be made to spread awareness about its bad impact on the environment," Singh said.
Deepak Kumar, the owner of the cow, said the animal was not eating properly.
"So it was left free to graze in the open. We brought the cow to the hospital when it stopped eating completely," said Kumar, who owns a cowshed in the Hanuman Nagar locality of south Patna.
In most large cities, owners typically allow their cattle to graze freely — most can be seen around garbage bins — only rounding them up at milking time.