'Drunk' man kills son, injures another in dry Bihar: How did he get alcohol?
Jun 08, 2017 05:13 PM IST
While the injured victim told the Hindustan Times that his father shot his brother and him in a drunken state, aggrieved as he was over their resistance to his drinking habit, police say there was no evidence to suggest that the crime was committed under influence of liquor.
Was Ravindra Yadav drunk when he shot his son and injured another?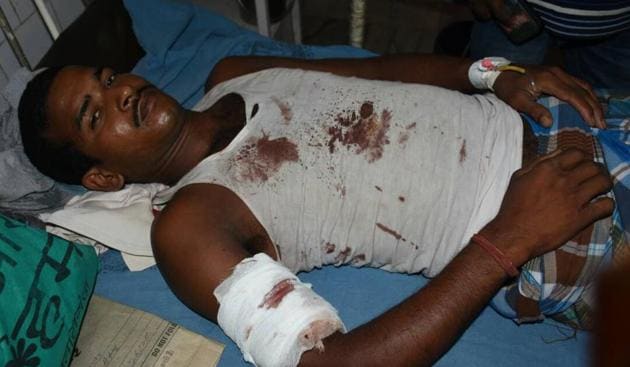 This question has rocked Bhagalpur district in Bihar, a dry state where consumption or possession of alcohol is punishable with jail for up to 10 years.
Yadav's younger son Chhotu, who escaped the alleged attack with injuries, told HT that his father was inebriated when he shot his elder brother dead.
But the police say the crime was motivated by a dispute over property, and there was no proof that Ravindra was drunk or addicted to alcohol. Ravindra, a former village head of Maheshi in Bhagalpur district, is absconding.
Sub-inspector Gagan Kumar Sudhakar of Sulatnganj police station said, "According to the family members of the accused, there was a family dispute over property. The accused wanted to have his say while his sons were opposing the deal," he said.
Senior superintendent of police, Bhagalpur, Manoj Kumar, also confirmed the family dispute theory due to property.
But others say the police are trying to divert attention from the alcohol connection because the force is tasked to ensure Bihar remains a dry state since it went for total prohibition on April 5, 2016. Consumption and trade of alcohol in the state reflects on the efficiency of the police, making them liable for action.
The Bihar Prohibition and Excise Act, 2016, provides for stringent penal action against the accused as well as the police in case of deaths arising due to hooch tragedy.
Chhotu said his father was ticked off by the continued resistance of his sons to his consuming liquor on a regular basis, despite the prohibition in Bihar. Chhotu is undergoing treatment at the Jawaharlal Nehru Medical College Hospital (JLNMCH), Bhagalpur, and is reported to be out of danger.
The youngest brother, Pandav Yadav also echoed his brother on Ravindra's drinking habit and the resultant tension at home.
This isn't the first time such a dispute over alcoholism has occurred in Bihar.
On Monday, a 45-year-old man died after reportedly consuming spurious liquor in Araria district, 320 kms north-east of Patna. Locals claimed the deceased was reeking of alcohol and died soon after consuming it, police, however, said it was a case of poisoning due to personal enmity.