Engineering colleges' syllabi revision gets govt nod
Sep 04, 2017 11:46 PM IST
The All India Council of Technical Education (AICTE) had set up 11 subject committees to recommend curricula changes at engineering and technical institutes – excluding IITs and NITs
The HRD ministry and AICTE have accepted the recommendations made by a committee on revising the syllabi for engineering and technical institutes with an emphasis on practical learning, sources said.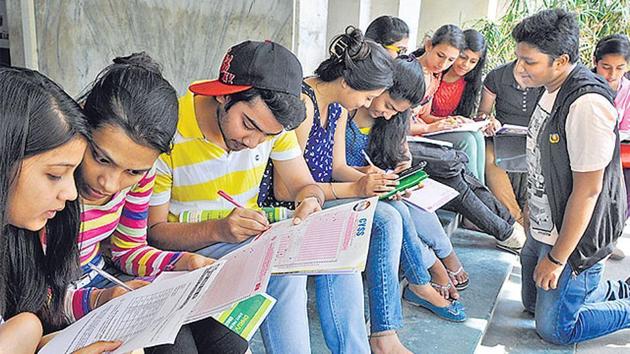 The All India Council of Technical Education (AICTE) had set up 11 subject committees to recommend curricula changes at engineering and technical institutes – excluding IITs and NITs. The move was aimed at addressing the concerns over the falling employability of engineers. The panel had called for a focus on topics of current importance such as artificial intelligence, machine learning and mandatory internships
"As per the curriculum, first year students will have less number of theory classes and will have to go through the induction training in the first semester. The curriculum has been designed to keep the final semester free to pursue project work so that the students can have hands-on experience ," said an HRD official.
The committees have also scrapped content which is not in line with today's demand.
"A model curriculum has been devised by the committee which has to be followed by all engineering and technical institutes. The AICTE will soon issue a regulation to this effect. The revised syllabus will be introduced from January," added the official.
The institutes will have the freedom to include 30% of the content depending on their requirement but 70% will be from the model curriculum.
"The fields of engineering and technology undergo changes every day and we need to keep up with their requirements. Some of the institutes are still teaching decades-old syllabi and using obsolete teaching tools," said a senior HRD official.
A meeting of all the affiliated technical universities (ATU) will be called by the AICTE to sensitise them about the changes in the syllabus. The move to revise the syllabus was spurred by the feedback received by the Centre on the dismal state of engineering education in the country. Though, India has 3,000-odd registered institutes that produce 7 lakh engineers annually, only 30-40% of them bag jobs. The low-employability levels are attributed as much to the lack of skills as the falling industry demand.