Experts slam move to dewater Haiderpur wetland
Jayashree Nandi and S Raju
Jan 21, 2023 12:35 AM IST
The Uttar Pradesh irrigation department drained out Haiderpur wetland, a protected Ramsar site that some believe to be the best upland in North India, forcing tens of thousands of migratory birds to leave the most prominent bird site in western Uttar Pradesh.
The Uttar Pradesh irrigation department drained out Haiderpur wetland, a protected Ramsar site that some believe to be the best upland in North India, forcing tens of thousands of migratory birds to leave the most prominent bird site in western Uttar Pradesh. Officials admitted that this was done under pressure from farmers who complained of water logging in their fields due to high ground water level.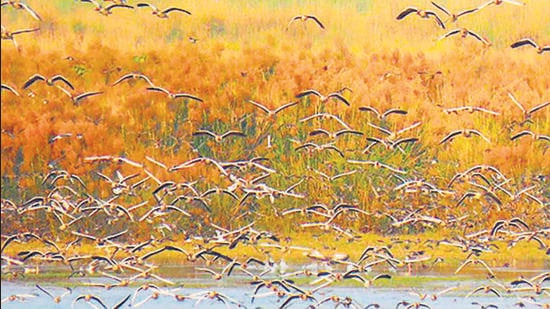 Haiderpur wetland is a Ramsar site—a wetland of national and international importance-- on the border Muzaffarnagar and Bijnor districts.
Ashish Loya, a birder and daily visitor to the wetland for the past six years, said the irrigation department drained out the water of the wetland in two days, starting January 10. "As a result, the migratory and other birds flew off ", said Loya.
He said usually the irrigation department drains the water gradually in late January and February, and suggested that the sudden draining of water this year could have shocked the birds.
Haiderpur wetland is situated in Jansath tehsil of Muzaffarnagar. Local sub-divisional magistrate Abhishek (goes by one name) said that the irrigation department might have drained the wetland's water into the Ganga under pressure of farmers who were complaining of water-logging in their fields. He said that the department should have coordinated with forest department officials to avoid panic among birds. "I will speak to the irrigation and forest departments regarding the issue."
An environment ministry official requesting anonymity said neither their permission nor they were not informed about it.
"We have written to UP government enquiring about this matter," said an official from Union ministry of environment.
Birders are shocked that a Ramsar site has been dewatered affecting the rich ecology and biodiversity of the wetland.
"Most birders from Delhi were visiting Haiderpur wetland because it is a superb birding site. The birding sites around Delhi NCR are deteriorating. There is too much hyacinth growth in Bharatpur. In Okhla wetland there was no water till two months ago because of some miscommunication between the forest and irrigation department. The only good site near Delhi is Haiderpur. I am wondering what event is so important that one had to destroy a high biodiversity habitat? It must be restored immediately," said Nikhil Devasar, Delhi based birder and coordinator of Delhi Bird Foundation.
"I cannot believe it has been dewatered. Haiderpur is one of the most wonderful birding sites in the country. It is a Ramsar site which means it is of national importance. There are 300 different species of birds that have been documented at the wetland. Dewatering the wetland is against the Ramsar convention," said Anand Arya, birder and environmentalist.
Loya had identified 327 species of birds at the wetland, out of which 200 species are migratory , including rare ones such as Smew, Common Pochard, Ferruginous duck, Great Crested Grebe, and Red-crested Pochard.
Dr Afifullah Khan , professor in the wildlife department in the Aligarh Muslim University (AMU) said that the Wildlife Act and the Wetland Act prohibited draining water from the wetlands and the irrigation department should have coordinated with the forest department before doing so.
Dr Khan said that a dry wetland would have an adverse impact on flora and fauna and overall ecology. He said that a group of swamp deer also stayed in the wetland and under such circumstances, they would be forced to migrate. "Such disturbances could compel migratory and other birds to change their destination in the next migration season."
"It's an annual exercise... We drain out the collected quantity of water in the month of January every year. The farmers were also forcing to release the water in order to tackle waterlogging in their farmlands. We were not aware that it's now a Ramsar site and what's its rules and regulations are. Nobody discussed it with us yet," said Piyush Baliyan, junior engineer, irrigation department, Bijnor barrage.
According to the Ramsar Convention website, Haiderpur is a human made wetland formed in 1984 by the construction of the Madhya Ganga Barrage on a floodplain of Ganga. It is located within the boundaries of Hastinapur Wildlife Sanctuary.
Haiderpur Wetland provides habitat for numerous animal and plant species, including more than 30 species of plants, over 300 species of birds including 102 waterbirds, more than 40 fish and more than ten mammal species. Haiderpur also supports more than15 globally threatened species, such as the critically endangered gharia, hog deer, black-bellied tern, Indian skimmer and gold mahseer.
The site supports at least 25,000 waterbirds, and serves as a breeding site for the near-threatened Indian grassbird.
In all, India has 75 Ramsar sites. The Ramsar Convention on Wetlands is an intergovernmental treaty that provides the framework for conservation and wise use of wetlands and their resources. Under the Convention, parties agree to work towards wise use of all their wetlands; designate suitable wetlands for the list of Wetlands of International Importance and ensure their effective management; cooperate internationally on transboundary wetlands, shared wetland systems and shared species.