Will bow my head in front of farmers, will discuss every issue, says PM Modi
Hindustan Times, New Delhi |
hindustantimes.com | Edited by Poulomi Ghosh
Dec 18, 2020 04:51 PM IST
"Take all credit you want for farm reforms, I am folding my hands in front of all political parties," PM Modi said.
In an hour-long address to the farmers of Madhya Pradesh, Prime Minister Narendra Modi on Friday reiterated his government's commitment to the welfare of farmers and explained how the three farm laws against which several thousands of farmers are protesting for the last three weeks are a step towards making farmers' lives better. The laws in question have not been passed in Parliament in hurry; there have been decades of discussions, PM Modi said beginning his speech.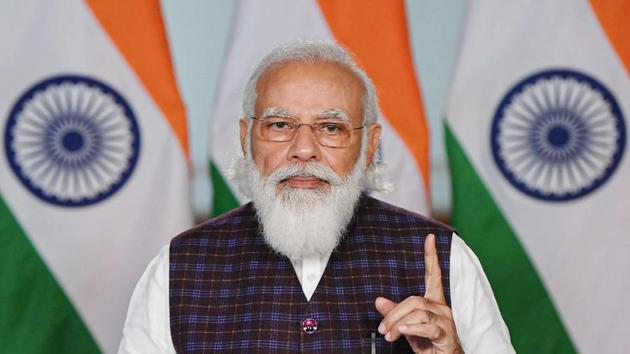 Towards the conclusion of his speech, PM Modi said the welfare of the farmers is the utmost priority of the government. Farmers should not believe the lies being spread over the new farm laws. "But still after all these, if our farmers have any concern, we will bow our heads in front of them and will listen to what they have to say. Their benefit is our utmost priority," he said concluding his address.
Stay tuned with breaking news on HT Channel on Facebook.
Join Now
PM Modi says Oppn intentionally did not work on Swaminathan Commission recommendations
In between, he slammed the opposition, debunked the rumours around the farm laws and compared his government's agriculture report card with that of the previous government.
"Farmers of India can't be left behind while other countries are moving towards new technologies. Now, a lot of discussions are going on over farm laws. These should have been done long ago. And these have not been introduced overnight. Our farmers have been demanding these for decades. If today we see the past manifestoes of the political parties, we will find the same promises," PM Modi said.
Taking a swipe at the opposition parties for "misleading" farmers for gaining back the lost political ground, PM Modi said, "I don't think they have a problem with the farm reforms. They have problems with the fact that what they promised and could not deliver has been now done by Modi. I am folding my hands in front of all political parties. Please, take all credit you want. I will give credit to the manifestoes of the political parties."
"When they were in power, they junked Swaminathan Commission report. We dug out the report and implemented the recommendations," PM Modi said adding that Madhya Pradesh farmers are well aware of Congress's false promises. "You know better as they had promised loan waiver to Madhya Pradesh farmers. But have all of you got that?" he said.
Congress's promise of farm loan waiver never includes small farmers who can't even go to banks and loan waiver was only applicable to a few big farmers, PM Modi said.
Reiterating the government's commitment towards the MSP system, PM Modi said, "Had we actually wanted to do away with MSP, why would we implement the recommendations of the Swaminathan Commission? The laws came into force few months ago. But MSP system is continuing. There can be no bigger lie, bigger conspiracy than this that we are abolishing MSP. This system will not end."
Comparing the minimum support prices on various crops between now and the previous government, PM Modi said, "The previous government used to give an MSP of ₹1,400 per quintal of wheat and ₹1,310 per quintal of paddy. Our government offers an MSP of ₹1,975 per quintal of wheat and ₹1,870 per quintal of paddy."
"If I start telling you what all our government has done for the welfare of farmers, I may run out of time. But I am quoting these figures so that you can understand the commitment of this government towards farmers," PM Modi said.
Debunking "lies" spread regarding agriculture laws, PM Modi said, "After MSP and APMC, the third greatest lie regarding laws is farming agreement. We are not doing anything new. What we did is we brought a provision for farmers' security. We have made it sure that sponsors won't be able to escape their responsibilities. So many cases are now coming up that farmers are approaching SDMs and are getting their dues. The agreement is only on the produce. The agreement is not for land."
"The agreement has provisions that if there is more benefit than that was agreed upon in the contract, farmers will get share of the additional benefit. And also it is on the farmers whether they want the contract or not. A farmer can also end the contract whenever he wants," PM Modi said.