Farming in India unprofitable for nearly 2 decades
Jul 10, 2018 08:11 AM IST
Agriculture in India suffers negative total revenues, implying that assets going out of the sector are more than those flowing in. Farming, therefore, has steadily become an unprofitable occupation, states a study.
Farmers' protests across India, largely prompted by bumper harvests and low prices, may have escalated since 2016, but India's agriculture sector hasn't been generating enough revenues to keep farmers profitable for nearly two decades now, according to a study by the Organisation of Economic Cooperation and Development (OECD), a grouping of 36 countries, and research firm ICRIER.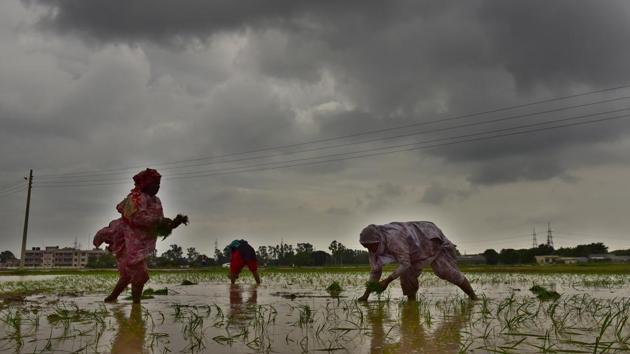 According to the study, India is only one of three countries (of the 26 tracked) where this has happened.
Stay tuned with breaking news on HT Channel on Facebook.
Join Now
The study blames an obsession with keeping food prices low, to avoid inflation, as the main reason for this.
The study looked at previously unmeasured set of indices, including gross receipts — or revenues — to the farm sector to draw that conclusion. Quite simply, agriculture in India suffers negative total revenues. In other words, assets going out of the sector are more than those flowing in.
Farming, therefore, has steadily become an unprofitable occupation, according to the study.
India is a global outlier on this count. Out of 26 countries whose proportion of gross farm receipts was tracked over two years (2014-16), only India, Ukraine and Vietnam had negative farm revenues. India's problem, however, stretches far back. Total receipts, or gross farm revenues declined 14% on average between 2000 and 2016. Between 2014 and 2016 , this fell by over 6% per year. This points to negative returns for producers.
Significantly, the report cites federal policies as a key reason for holding farm incomes back. In the policy trade-off between prices consumers pay and prices farmers get, government trade policies had the effect of keeping farm incomes low.
The OECD used a set of proprietary policy indicators, including support transfers to the farm sector, which in India's case was applied for the first time. These broadly measure the total share of transfers from consumers and taxpayers, as a class of citizens, in gross farm revenues.
"Most of these distortions took place during the previous UPA government period when export restrictions and minimum export prices were imposed but were not reviewed when global prices began to fall," Siraj Hussain, who served as agriculture secretary under the previous UPA government, said. "As a result, India lost the opportunity to export sugar, rice, maize, wheat, even non-basmati rice."
The study states that India presents a contrast with most other countries studied by OECD because of the prevalence of negative market price support and its size. In the 2000 to 2016 period, producer prices – or prices farmers receive– have remained below those in international markets "for many years and for many commodities". "It seems from the report that agriculture has become a low-level equilibrium trap. Governments kept pumping in more and more input subsidies, rather than investments," said Uma Kapila, an economist and editorial director of Academic Foundation. Even if half of the usual farm subsidies had been used for investments, the face of agriculture would have been starkly different, she added.
Low-level equilibrium is a concept used to describe a situation where the population is trapped in poverty and can't save for new investments needed to spur growth.
Nearly 62% of farmers in India, who cultivate less than 0.80 hectares of land, would continue to be under the poverty line if they do not switch to a non-agricultural occupation, according to calculations of Ramesh Chand, who is a member of Niti Aayog, a government thinktank. Overall, India's agricultural output has been increasing on average 3.6% annually since 2011. To be sure, the country's GDP per capita has jumped 5% annually since the 1990s, cutting the incidence of poverty in half.
The report blames government policies governing the food rather than the agriculture sector. The key problems identified by the study are trade restrictions specifically designed to keep domestic food inflation low, including frequent ban on exports and MSPs set at lower than international prices. It cited the Essential Commodities Act and the Agricultural Produce Market Committee Act, as examples of regulations hampering price discovery for farmers.
"Controls imposed by the government on movement of food and exports at the slightest hint of inflation going up prevented farmers from realising higher prices from exports," Hussain said.