How Sasikala and 'Mannargudi mafia' strengthened clout in Tamil Nadu power play
VK Sasikala and her family's fortunes changed in direct proportion to the influence she began to wield as Jayalalithaa became the chief minister.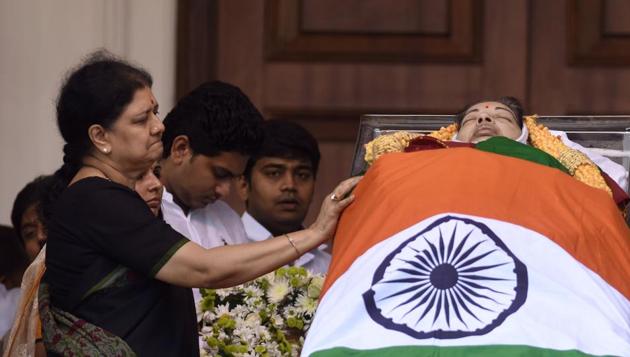 Updated on Feb 15, 2017 08:38 AM IST
There is a huge sense of relief in Tamil Nadu with the conviction of AIADMK general secretary VK Sasikala, who was described as "female don" by a senior Congress leader EVKS Elangovan.
And he may not be far from the truth as Sasikala and her family's presence is felt in every sphere of life in the state — most significantly in political and bureaucratic circles due to the raw power she wielded because of her proximity to late chief minister J Jayalalithaa.
Which is why she emerged as Chinnamma, successor to Amma, and was about to become the chief minister of the state when the SC verdict tripped her.
Hailing from Thiruthuraipoondi, Sasikala's parents had shifted to a nearby small town in Mannargudi of East Tamil Nadu near Thanjavur.
It was after her marriage to Natarajan, a government PRO in 1975, that Sasikala was introduced to Jayalalithaa and then slowly made her way into her heart. Power flowed naturally to her. Her family and relatives, who moved away from Mannargudi, began exerting influence on police, bureaucracy and influencing different spheres of business activity.
Sasikala and her family's fortunes changed in direct proportion to the influence she began to wield as Jayalalithaa became the chief minister.
At their home in Mannargudi, only her brother V Dhivaharan stays and runs a women's college, Sengamal Thayar Educational Trust (STET) College. Dhivaharan is known in Mannargudi as the "Boss". Sasikala trusts him when it comes to political issues and political fortunes of the party and its cadidates have often been decided here even when Jayalalithaa was the chief minister. Such was Sasikala's influence, which can be seen even today. Even after her conviction, most MLAs are supporting her, as much out of loyalty as out of fear.
Along with Sasikala's growing political clout, her brother and other relatives too increased their respective wealth.
Over the years, the Mannargudi Mafia, as Sasikala and her immediate and extended family members are referred to, penetrated almost every layer of government and police. Even senior police officials are wary of dealing with them. When Sasikala was ousted from Poes Garden in 2011, the 'Mafia' lost its clout, but bounced back immediately after her return to the CM's home.
With Jayalalithaa gone, the family appeared at the forefront during her funeral and since then, has entered Poes Garden and become well entrenched.
Sasikala and her sister-in-law Ilavarasi live in Poes Garden.
Dhivaharan and his sister's sons — Dhinakaran, Sudhakaran and Bhaskaran — are based out of Theni and take care of operations in south Tamil Nadu.
Sudhakaran was adopted by Jayalalithaa and later disowned. It is his marriage in 1995 that drew the attention of income tax authorities and later led to the disproportionate assets case. Another brother's son, TV Mahadevan, looks after Trichy. Another relative looks after Western Tamil Nadu.
Natarjan, with whom Sasikala snapped all links, surfaced at Jaya's funeral. Sasikala and her relatives have investments worth hundreds of crores in several companies in the state.
Close Story