Lalu Prasad sentenced to 5 years in jail in third fodder scam case
Rashtriya Janata Dal (RJD) chief Lalu Prasad has already been convicted in two fodder scam cases in 2013 and 2017 and got 5 and 3.5 years of imprisonment respectively.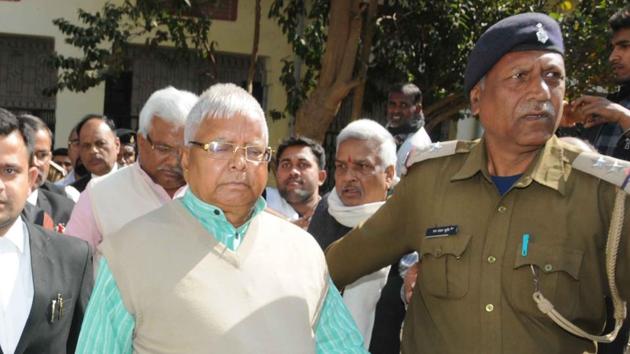 Updated on Jan 24, 2018 11:10 PM IST
A special CBI court here on Wednesday sentenced Rashtriya Janata Dal (RJD) chief Lalu Prasad to five years of rigorous imprisonment and a fine of Rs 10 lakh in the third fodder scam case out of the five lodged against him 22 years ago.
Besides Prasad, the court of special judge SS Prasad also convicted former Bihar chief minister Jagannath Mishra and 48 others in the scam case related to the Chaibasa treasury from which Rs 33.13 crore were fraudulently withdrawn against the annual allotment of Rs 7.10 lakh for the year 1992-93. It acquitted six accused involved in the case.
The Rs 900 crore fodder scam, probed by the Central Bureau of Investigation (CBI), relates to fraudulent withdrawal of public funds from different government treasuries over fictitious expenditure on fodder and other expenses for cattle.
Prasad, who has been cooling his heels here at the Birsa Munda Central Jail since December 23, 2017, after his conviction in another fodder scam case, appeared in person to hear the verdict. He was given a seat in the courtroom's front row where he waited for at least two-and-a-half hours until the punishment was pronounced at 2pm .
Communicating the sentence, the special judge announced that Prasad had to undergo rigorous imprisonment (RI) of five years for committing offences under various sections of the Indian Penal Code (IPC) and another five years for offences under the Prevention of Corruption Act. "Both sentences shall run concurrently," the judge said.
The court fined Prasad ₹10 lakh, saying non-payment of the amount would drag simple imprisonment of an additional year. It awarded RI ranging from three to five years and slapped a fine of a minimum of Rs 1.5 lakh to Rs 12 lakh on each of the 56 convicts. However, it awarded three years of jail term to 10 convicts, including two politicians and four women suppliers, and released them on bail.
Earlier, Prasad's lawyer Chitranjan Sinha pleaded for a lighter punishment citing his client's multiple health issues. But the CBI demanded maximum punishment for Prasad, arguing that the accused deserved no leniency as the offences were of a grave nature.
Reacting to the judgment, Prasad's son and Bihar's leader of opposition, Tejaswi Prasad Yadav, said, "People know how the BJP and RSS and, more importantly, Nitish Kumar have conspired against Lalu ji. We will approach higher courts against all these verdicts."
RJD leader Raghuvansh Prasad Singh said, "Prasad will come out clean in all cases. We will fight back."
Prasad had already been convicted in two fodder scam cases in 2013 and 2017 and got five and 3.5 years of imprisonment respectively. His first conviction, on September 30, 2013, was a major blow to the veteran politician who faced disqualification from Lok Sabha and a ban on contesting election. He still faces trial in two other scam cases. One of them is at an advanced stage of trial in which the final argument will start next week and the judgment expected in a few months.
BLURB
Ex-Jharkhand chief secy Sajal Chakroborty and two other senior bureaucrats also sentenced to 4-year rigorous imprisonment each in a 22-year-old fodder scam case
Close Story