G-23 leaders say they are lifelong Congressmen, naradmunis should be tackled: Report
During Jawaharlal Nehru's time, there used to be heated discussions, arguments, walkouts, G-23 leader Ghulam Nabi Azad said at the Congress Working Committee meeting on Sunday.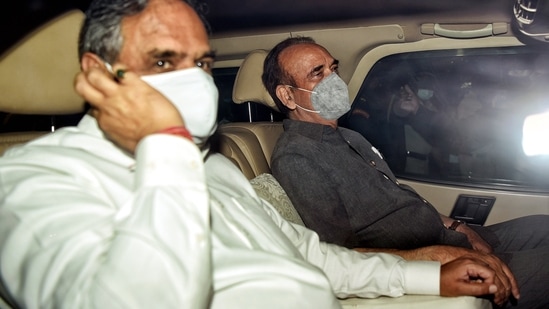 Updated on Mar 14, 2022 09:53 AM IST
The G-23 leaders who have been termed as rebels for demanding Congress's organisation overhaul said they are being vilified by a few who have projected them as working at the BJP's behest. "We remain lifelong Congressmen," the G-23 leaders said in the Congress Working Committee meeting on Sunday, news agency PTI reported. Out of the 23 leaders who created a stir in 2020 by signing in the letter addressed to Sonia Gandhi calling for immediate reforms in the Congress, only Ghulam Nabi Azad, Anand Sharma and Mukul Wasniuk were present at Sunday's meeting where the party expressed confidence in Sonia Gandhi's leadership.
The three leaders said they are not political tourists and the Congress leadership must be aware of the rumour-mongers and naradmunis giving mischievous twists to what they are suggesting for strengthening the party.
As the meeting was to deliberate on the drubbing of the party, the three leaders put forward their opinions. According to sources, cited by PTI, Anand Sharma pointed out that the Congress has been faring poorly in the Hindi heartland. To revive itself there, the party should stick to its core ideology and not toy with any "form of fundamentalism or communalism of any community".
Ghulam Nabi Azad said they were making suggestions for strengthening the party but some within the party dubbed them as working at the behest of the BJP. Honest dialogue and discussion has been the Congress's tradition since the days of Jawaharlal Nehru "when there used to be heated discussions, arguments and walkouts during brainstorming sessions', he said.
Ahead of the Congress's crucial meeting on Sunday, it was reported that the G-23 group had suggested Mukul Wasnik for the post of the president of the party which was not accepted. It was also rumoured that the Gandhis would be resign at the meeting.
Putting all these speculations to rest, the Congress Working Committee requested Sonia Gandhi to lead from the front as every member expressed their full trust in Sonia Gandhi's leadership. On being questioned about demands for Rahul Gandhi taking the mantle, spokesperson Randeep Surjewala said until the election takes place, Sonia Gandhi will remain the president.
"Every sentence spoken by every member of the Congress Working Committee is not open to media. One thing every single member unanimously agreed is that they have absolute faith in the leadership of Sonia Gandhi. She should continue as the president of the party until the election is conducted. And there is no wisp of anything otherwise," Surjewala said.
Close Story
Personalise your news feed. Follow trending topics