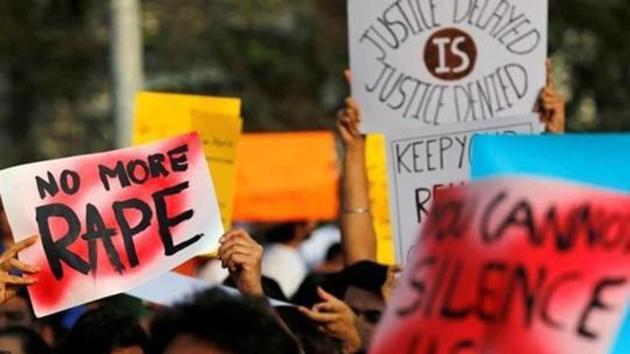 Gangraped, filmed a month ago, Bihar woman comes out to narrate ordeal
The accused filmed the act and circulated the video after the Dalit woman's family lodged a complaint.
Patna, Hindustan Times | By Prasun Mishra
UPDATED ON JUN 25, 2018 04:33 PM IST
A 20-year-old Dalit gang-rape victim from Bihar's Kaimur district on Monday accused the police of whittling her case into that of sexual harassment at the behest of the village head, nearly a month after a video of the crime went viral.
"Since my parents and I are illiterate, we could not read the FIR the thana (police station) staff had written on the basis of my complaint. Since the accused were from influential families, I had fled to my relative's place in another village to avoid further trouble," she said while speaking to reporters in Kaimur.
The newly-married woman also said the accused sent messages through middlemen offering her Rs 3 lakh to reach a compromise and withdraw the case against them.
Police, however, denied her charges and said the victim had submitted a written complaint. "Our staff did not write the complaint for her," superintendent of police Md Faroghuddin said.
It is the fourth such incident in Bihar and second in Kaimur within a month where the videos of gang-rape and sexual harassment have gone viral.
Faroghuddin said all the accused have been identified and will be arrested soon.
The victim, who was vacationing at her maternal uncle's house when the incident happened, alleged that on May 27 six local men accosted her, gagged her seven-year-old brother's mouth and took turns to rape her.
She said she was going to a neighbouring village to attend a religious ceremony with her brother when she was gangraped. One of them recorded the incident on camera, she said.
The accused threatened her with dire consequences and warned her not to file a complaint with the police, before letting her go.
However, the victim's family lodged a first information report on May 30 at Bhagwanpur police station against Bideshi Chaudhary and his unknown accomplices.
They allegedly released the video after they learnt about the woman's complaint and their efforts to make the family cow down to their pressure tactics failed.
The police arrested a suspect, Arun Kumar, from Patarihan village and sent him to jail. Chaudhary and his unknown accomplices are, however, still at large.
Sub-inspector BN Tiwary, the investigating officer in the case, said raids were on to arrest the other accused.
A video of six men sexually harassing a minor Dalit school girl in the forests near Masahin village under Bhagwanpur police station area on June 2 also went viral recently. A case was lodged and police identified and arrested all the accused within a week.
Close