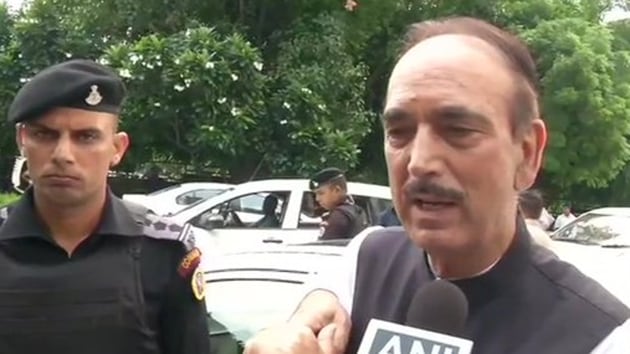 Ghulam Nabi Azad can't enter J&K, sent back this time from Jammu airport
This is the second time this month that the Congress leader has been stopped. On August 8, Ghulam Nabi Azad was sent back from Srinagar.
UPDATED ON AUG 20, 2019 08:46 PM IST
Leader of Opposition in the Rajya Sabha, Ghulam Nabi Azad who was stopped at Jammu Airport on Tuesday afternoon for nearly two hours before he was sent back to Delhi at 4.10 pm, described his face off with the local administration as a sign of intolerance.
"It's not right for democracy. If mainstream political parties won't visit, then who will go? Three former CMs J&K are already under house arrest and one former CM of J&K not being allowed to enter the state, it is a sign of intolerance," ANI quoted Azad as saying.
Azad's entry to Jammu and Kashmir was foiled for the second time since August 8 when he was stopped at the Srinagar airport and sent back to Delhi.
On that trip, Azad had planned to interact with Congress workers and assess the situation in the valley after the Narendra Modi government scrapped Article 370 and split the state into two union territories - Jammu and Kashmir and Ladakh.
Jammu and Kashmir Pradesh Congress Committee's chief spokesperson and former MLC, Ravinder Sharma told Hindustan Times that Azad who is also a Congress general secretary was detained for two hours at the airport before being sent back to Delhi.
"He arrived at 2.30 pm from Delhi, detained for two hours and sent back at 4.10 pm. Senior leaders Madan Lal Sharma, Tara Chand, Jugal Kishore and me, who had gone to receive him, were not allowed to enter inside the airport. We also made a formal request to airport authorities but to no avail," said Sharma.
Sharma regretted raw deal to the leader of Opposition in the Rajya Sabha and one of the senior leaders of the Congress by the BJP government.
"He just wanted to meet party leaders. If administration says that section 144 Cr PC has been lifted and the situation is normal across Jammu region then why he wasn't allowed to visit Jammu. He is the leader of opposition in Rajya Sabha, former chief minister of Jammu and Kashmir and he was visiting his home state. It was most unfortunate. This kind of situation was unprecedented," said Sharma,
The former Congress MLC said that denying access to the home state to the leader of opposition and former CM was "murder of democracy".
"We are nationalist party. They are (BJP government) stifling the voice of opposition," Sharma said.
Jammu and Kashmir Congress unit chief Ghulam Ahmed Mir and senior leader Raman Bhalla remain under house arrest.
Restrictions in Jammu and Kashmir which were imposed ahead of the Centre abrogating Article 370 have gradually lifted in some areas in Jammu region and the Kashmir Valley, but the curbs are in still place in several areas.
Close