Govt considering introducing Women's Reservation Bill
Updated on Sep 21, 2017 08:41 PM IST
The Modi government may introduce in Parliament the Women's Reservation Bill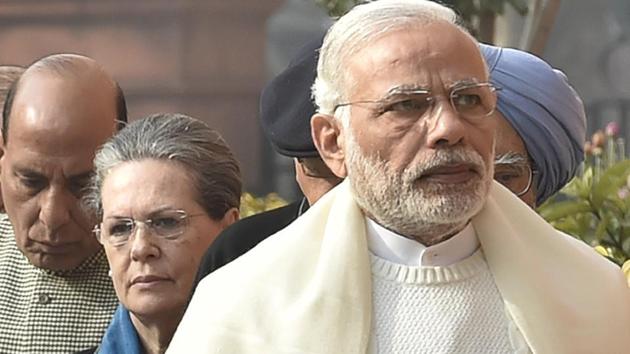 Press Trust of India, New Delhi |
Press Trust of India
The Modi government may introduce in Parliament the Women's Reservation Bill, which seeks to reserve one-third of seats in the Lok Sabha and state assemblies for women.
A senior BJP leader said top echelons of the government and the party have been brainstorming over the bill, which had polarised the political class whenever various governments introduced it earlier.
Asked if the government will bring the bill in its original form or incorporate some changes, he said the matter is still being debated.
On being asked if the bill will be introduced in the Winter Session, the leader, on condition of anonymity, said, "It may be introduced. But a final call has not been taken yet."
Congress president Sonia Gandhi on Wednesday written to Prime Minister Narendra Modi, urging him to introduce the bill passed in the Lok Sabha by taking advantage of the BJP's majority in the House.
BJP leaders claimed that Gandhi was doing politics over the matter and said the UPA government did not introduce the bill in the Lok Sabha as it could not overcome opposition from within its own ranks.
The bill is unique in the way it has polarised opinions as despite getting public support from all major national parties, including the BJP, Congress and the Left, it has drawn fierce opposition from some regional outfits and MPs from backward classes.
Many OBC MPs cutting across party lines, including the BJP and the Congress, believe that such a law will give advantage to women from upper castes, who are better educated and more resourceful.
Regional satraps like Lalu Prasad and Mulayam Singh Yadav have also opposed it bitterly, demanding reservation for OBCs and minorities within the quota for women and also that the quantum of reservation should be far less than 33.33 per cent.
A strong view within the BJP is that if its government succeeds in getting this constitutional amendment bill passed in Parliament, then it can upend conventional political faultlines and boost its prospects ahead of the 2019 Lok Sabha poll.
Reservation for women in local bodies already exists and have brought about positive changes, another BJP leader said.
The bill was first introduced by the United Front government in 1996 and then the Vajpayee government tabled it a few times. However, it could never be passed in any of the two Houses on all these occasions.
The prospects of its passage brightened when the UPA government tabled it in the Rajya Sabha in 2010 and managed to get it passed in the Upper House.
However, reluctance from some of its allies and opposition from backward caste MPs from many parties meant that the Lok Sabha never took it up and it lapsed with the dissolution of the 15th Lok Sabha in 2009.
Personalise your news feed. Follow trending topics