Govt looks to update elephant corridors to mitigate human-animal conflict in six states
Jan 28, 2023 12:40 AM IST
Ramesh Kumar Pandey, director of Project Elephant, which is a centrally sponsored scheme for elephant conservation, said the government has decided to redraw elephant corridors
Kolkata The Union environment ministry is in the process of updating and reviewing elephant corridors across India to better manage human-animal conflict, a senior government official in charge of the country's elephant conservation project said on Friday.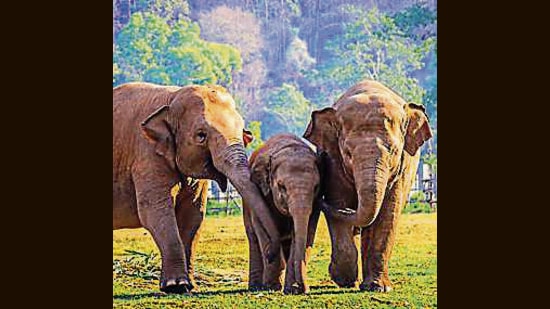 Ramesh Kumar Pandey, director of Project Elephant, which is a centrally sponsored scheme for elephant conservation, said the government has decided to redraw elephant corridors – narrow strips of land that connect two or more wildlife habitat areas – in order to see whether old corridors identified over a decade ago were still functional.
"We are working closely with the state governments to know whether the old corridors are still functional and whether new ones have come up. We are also looking at exploratory movements of elephants and formulating a strategy to deal with it," Pandey said, adding the exercise will help in better human-elephant management.
In 2005, Wildlife Trust of India and Asian Nature Conservation Foundation in collaboration with state forest departments, Project Elephant and researchers had identified 88 elephant corridors.
ALSO READ: Declare elephant corridors in Corbett as 'eco-sensitive zones': Uttarakhand HC
In 2010, the Gajah (elephant) Task Force, set up to review the existing policy of elephant conservation in India and formulate future interventions, tagged 26 of these corridors for immediate action to secure and protect the 26 corridors as they were of highest ecological importance. The remaining 62 were listed as ones with medium-to-low ecological and conservation value.
In 2017, the WTI identified 101 elephant corridors.
According to the Gajah report of 2010, elephants can only have a secure future if landscapes containing viable populations are managed in a holistic and ecologically sound manner. The long-term survival of these populations rests on consolidating habitats and maintaining the integrity of corridors. Corridors are vital to enable the maintenance of genetic diversity. Bereft of critical corridors, the populations of elephants in strictly protected habitats will be isolated and much more vulnerable.
Pandey said they have completed verification of 50% of the old corridors and the rest would be verified in the next few months. "Once that is done, the updated elephant corridors will be published," he said.
Government data shows that both elephant and human deaths have dipped in recent years. India had 29,964 elephants as per the last census in 2017.
ALSO READ: 4 killed by elephant in Odisha; Toll reaches highest in man-elephant conflict
The corridors are primarily for conservation of elephants. It also helps to mitigate man-elephant conflict to some extent as elephants get a safe passage.
Environment ministry data tabled in Parliament showed that the number of deaths due to elephants was 535 in 2021-22, down from 585 in 2019-20. Jharkhand recorded the highest number of human deaths, 133, followed by Odisha (112) and West Bengal (77) deaths in 2021-22.
Elephant deaths due to humans stood at 82 in 2021-22, compared to 99 in 2019-20. Electrocution killed the maximum number of elephants, with Karnataka and Tamil Nadu recording the maximum deaths.
Experts said re-drawing of the corridors could help provide better protection to elephants and improve genetic diversity.
"Majority of the corridors are on government land and they just need to be guarded and protected. Some are on private land, and surgical intervention is needed to ease the movement of elephants. There may be some corridors which may have not been identified," said Raman Sukumar, an elephant expert.
Experts cited the example of Odisha where some corridors were drawn 20 years ago and were 75km long and 100 metres wide. They said that kind of corridors are not scientific as there could be a major conflict.
"Corridors are primarily meant for the conservation of the elephants. Without any corridors or safe passage of elephants, conflict would definitely rise, but it doesn't mean that the conflict would come down if they are redrawn. Man-elephant conflict is a very complex issue and depends on multiple factors," said Vivek Menon, founder and executive director of WTI, an NGO working on wildlife conservation.
Some states such as West Bengal have suggested putting up systems to alert locals about an arriving elephant herd.
"West Bengal has already set up an early warning system engaging local youths. They are known as Gajah Mitras and act as ears and eyes of the forest department. They keep a watch on movement of elephant herds and inform the local forest officials who in turn spread the message to villagers," said a forest department official of West Bengal
A senior official of the union forest ministry said that Odisha notified 7,263-acre area in the Similipal-Hadgarh-Kuldiha corridor as a conservation reserve, a protected area under the Wildlife Protection Act.
In 2010 , the Tamil Nadu government notified the Sigur plateau in Nilgiri district as an elephant corridor on the orders of the Madras high court. The Uttarakhand government is planning to notify elephant corridors under the Environment Protection Act as eco-sensitive zones, an official of the union forest ministry. The West Bengal government is also trying to secure the Titi – Buxa corridor in north Bengal as an elephant conservation zone.
"Corridors are major routes of elephant movement. It is an evolving tapestry of human-elephant interaction. It's not just about the number of elephants, but also the behaviour of individual elephants or herds in a given location and the way people interact with them, which is evolving. The behaviour of elephants also needs to be studied as it could be location specific. It also needs to be seen how people react with the elephants," said Mahesh Rangarajan, former Elephant Task Force chairman and presently a professor of history and environmental studies at Ashoka University.
The Corridor issue was discussed in a regional workshop hosted by Project Elephant and the West Bengal forest department in Kolkata last week. Officials from six states with the highest elephant population, including Odisha, Jharkhand, Madhya Pradesh, Chhattisgarh, and Bihar, attended the meeting.
"Efforts are also on to come up with a regional plan between the six states so that timely information about movement of elephants may be shared and a common strategy may be prepared," said an official present in the meeting.
Elephants are also found in Kerala, Karnataka, Tamil Nadu and Assam.