Gujarat election results Highlights: Final tally of BJP 99 seats
Updated on Dec 19, 2017 03:52 PM IST
Counting of votes for the Gujarat election results is over. The results were declared on the Election Commission of India's website eciresults.nic.in. Here are live updates on the counting day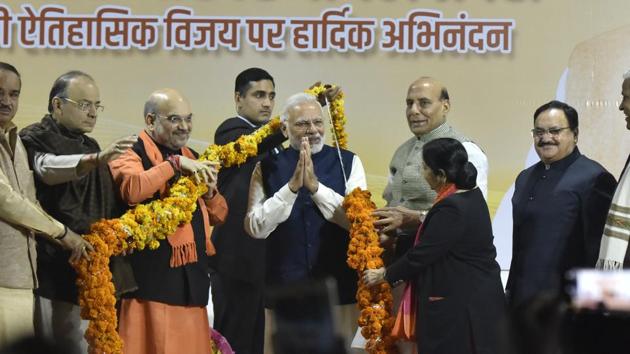 Hindustan Times, New Delhi |
HT Correspondent
The Bharatiya Janata Party won the Gujarat assembly elections for a record sixth straight time on Monday ahead of the 2019 Lok Sabha elections. Results have been declared in all 182 constituencies, with the BJP winning 99 of them.
The Gujarat results turned out to be a seesaw, with the BJP and Congress running neck-and-neck in early trends. Around midday, the BJP pulled ahead, and by 6.30pm, it had won 95 seats and was leading in four. The majority mark in the 182-member assembly is 92.
The Election Commission of India declared the results on eciresults.nic.in.
The Congress won 75 seats and was leading in two for a possible total of 77, compared to 61 in the 2012 elections.
The win was not as big as the BJP expected. Party leaders had aimed for 150-plus seats, but faced a tough challenge from a resurgent Congress led by Rahul Gandhi, as well as young Patidar and Dalit leaders Hardik Patel, Alpesh Thakor and Jignesh Mewani.
Here are live updates on the Gujarat election results:
9.50pm: Congress leader P Chidambaram takes a swipe at BJP on Twitter, says "winner limped across the finish line with a young sprinter close on his heels".
"There is an electoral victory and there is a political victory. Need I say who is the political victor in Gujarat," he also tweets.
8.59pm: Counting of Gujarat votes ends. Tally stands as follows:
BJP – 99 (49.1% vote share)
Congress – 77 (41.1% vote share)
NCP – 1 (0.6% vote share)
Bharatiya Tribal Party – 1 (0.7% vote share)
Independents – 3 (4.3% vote share)
8.50pm: BJP gains one more seat to take tally to 98.
7.43pm: Union minister JP Nadda says finance minister Arun Jaitley and BJP general secretary Saroj Pandey will go as observers to Gujarat to discuss about the leadership in the state: ANI
7.30pm: Counting of votes still continues in four constituencies. Of 182 seats, results declared for 178.
6.51pm: "Sadly, a few people who were hungry for power, they tried to sow the seeds of casteism. Gujarat has been rejecting those people and have rejected them again. We also have to be more careful now on. Our Mantra remains 'Sabka Saath, Sabka Vikas," says PM Modi.
6.50pm: "Whether you like the BJP or not, don't try to derail the nation from the road of development," says PM Modi.
6.49pm: "We took three decades to remove the poison of casteism from Gujarat. We took Gujarat on the path of 'Sabka Saath, Sabka Vikas'." says PM Modi.
6.46pm: "I compliment the people of Gujarat. There was so much misinformation. Congress was hatching all kinds of conspiracies. They mocked development also," says PM Modi.
6.43pm: "For me, Gujarat polls are a matter of double joy. I am so happy that after I left the state, my colleagues there continued the good work," says PM Modi.
6.40pm: "The BJP won all the seats it contested in 1989 Lok Sabha polls. We won most of the seats we contested in 1990. In 1995, in 1998, in 2002, in 2007 and in 2012 we won. We won most seats in Lok Sabha polls too," says PM Modi.
6.38pm: "The way the people of Himachal Pradesh have supported us shows that people are fed up of misgovernance and misdeeds by the incumbent Government in the state. They have given BJP a positive vote," says PM Modi.
6.36pm: "Election results show the country is ready for reforms," says PM Modi.
6.35pm: "From the UP civic polls to the polls in Maharashtra, BJP has scored remarkable victories... After GST, in Maharashtra's civic elections, the BJP won," says PM Modi at the BJP's headquarters.
6.28pm: "The Congress spread casteism and took the campaign to a low. Despite that, the BJP won in Gujarat and this shows the people's faith in Narendra Modi," says BJP chief Amit Shah.
6.24pm: BJP president Amit Shah and other leaders felicitate PM Narendra Modi at the BJP headquarters in New Delhi as party celebrates Gujarat and Himachal Pradesh win.
6.23pm: Congress accepts people's verdict in assembly elections, fought anger with dignity, says Congress president Rahul Gandhi. Full story.
6.20pm: "The Election Commission of India was approached for counting at two booths in different constituencies. The ECI has given instructions to conduct counting through VVPAT in those two particular booths," says BB Swain, chief electoral officer of Gujarat.
6.17pm: Prime Minister Narendra Modi arrives at the BJP headquarters in New Delhi, received by BJP president Amit Shah.
6.13pm: BJP leaders arrive at the party's headquarters for the parliamentary board's meeting.
6.09pm: As per the results declared by the Election Commission, the BJP has got 49.1% votes, marginally higher than nearly 48% it polled in the 2012 state assembly polls.
5.46pm: "All sections of the society have voted above caste politics. This is a win of development politics of the Prime Minister. In Gujarat, OBC, Patidar, Dalit all were used for caste politics by the Congress but caste politics could not get success," says senior BJP leader Nitin Gadkari.
5.33pm: The BJP has lost in Unjha constituency, which includes Prime Minister Narendra Modi's hometown of Vadnagar, to the Congress. Congress' Asha Patel defeats outgoing BJP MLA Patel Narayanbhai Lalludas by a margin of over 19,500 votes in the traditional stronghold of the Patidar community.
5.06pm: "The Congress relied on caste-based politics in Gujarat," says Vijay Rupani.
5.03pm: "I would like to give credit for this victory to the people of Gujarat. I also assure people that in the coming five years, the BJP will work towards what the people of the state want," says Vijay Rupani.
4.59pm: "Congratulations to people of Gujarat, BJP and Gujarat BJP karyakartas on winning the Gujarat assembly elections 2017. This victory reiterates pan India trust of people in the development agenda and policies of our government led by PM Narendra Mod," tweets Arun Jaitley.
4.30pm: "My Congress brothers and sisters, you have made me very proud. You are different than those you fought because you fought anger with dignity. You have demonstrated to everyone that the Congress's greatest strength is its decency and courage," tweets Rahul Gandhi.
4.30pm: "The Congress party accepts the verdict of the people and congratulates the new governments in both states. I thank the people of Gujarat and Himachal with all my heart for the love they showed me," tweets Congress president Rahul Gandhi.
4.27pm: "We won comfortably, increased our vote share. It was not a close contest at all," says Amit Shah.
4.25pm: "We will win the upcoming assembly election in four states, including Karnataka," says Amit Shah.
4.23pm: "Opposition said that the people of the nation are unhappy with the economic reforms undertaken by the Centre, but the victory has proved that people have accepted the decision of PM Modi," says Amit Shah.
4.19pm: BJP chief Amit Shah says the reason for reduction in the BJP's seat share is negative campaigning and divisive tactics.
4.17pm: "We are confident that when we go into the 2019 elections under the leadership of PM Modi, we will once again get people's support and Modi ji's aim for the youth in 2022 will become a reality," says Amit Shah.
4.12pm: "The 2/3rd lead in Himachal Pradesh shows that people there want to join PM Narendra Modi in the journey to development," says Amit Shah.
4.11pm: "Two Independents who won support Congress+ and so does the NCP. The the Congress+ tally right now is 84 and BJP is 98-99," says Randeep Surjewala,Congress spokesperson.
4.10pm: "It is a victory of politics of performance," says Amit Shah.
4.09pm: "Under Modi ji's leaderhip, our democracy is changing and entering a new era," says Amit Shah.
4.07pm: "Today is a day of happiness for the BJP... We are forming governments in both states. I want to thank the people of Gujarat and Himachal Pradesh," says BJP chief Amit Shah.
3.55pm: "I accept the victory of the BJP. I, being the CM, take full responsibility of our performance here (in Himachal Pradesh). I hope Vikramaditya (Singh) keeps winning in future, like he won today," says Virbhadra Singh.
3.52pm: "The BJP's victory in Gujarat and Himachal Pradesh is a victory of PM Narendra Modi's development agenda and against the politics of casteism and appeasement," says BJP chief Amit Shah. He adds that the results in the two states are a result of PM Modi's pro-people policies.
3.33pm: "I bow to the people of Gujarat and Himachal Pradesh for their affection and trust in BJP. I assure them that we will leave no stone unturned in furthering the development journey of these states and serve the people tirelessly," says PM Modi.
3.32pm: 'Election results in Gujarat and Himachal Pradesh indicate a strong support for politics of good governance and development. I salute the hardworking BJP Karyakartas in these states for their hardwork which has led to these impressive victories," tweets PM Modi.
3.30pm: "Development won, Gujarat won," tweets PM Modi.
3.25pm: BJP president Amit Shah arrives at party headquarters in New Delhi as workers celebrate lead in Gujarat and Himachal Pradesh.
3.16pm: "I want to congratulate the BJP -- they won by tampering with the EVMs," says Hardik Patel.
3.15pm: "The Congress should think about EVM tampering. The numbers are very close, so nobody doubts the EVM," says Patidar leader Hardik Patel.
3.14pm: "There has been tampering with EVMs in Surat, Rajkot and Ahmedabad, hence the gap is very little in these areas," says Hardik Patel.
3.12pm: "I express my gratitude to the people of Vadgam for all their support. Now I will raise the voice of Gujarat's discriminated sections in the assembly," says Jignesh Mevani.
3.09pm: Amid the BJP's election victories in Gujarat and Himachal Pradesh, Congress leader Sonia Gandhi and her daughter Priyanka Gandhi have met Congress president Rahul Gandhi in New Delhi.
3.04pm: How Phase 2 saved the day for BJP in prestige battle: Full story
2.55pm: "Jo jeeta wohi Sikandar (whoever wins is king). This is the message to those who joked about vikas (development)," says BJP leader and Union minister Mukhtar Abbas Naqvi.
2.45pm: Gujarat minister Chimanbhai Sapariya is trailing from Jamjodhpur behind the Congress' Chiragbhai Kalariya.
2.01pm: "In his opening innings, he scored zero," says Goa chief minister Manohar Parrikar on Congress president Rahul Gandhi.
1.32pm: Nationalist Congress Party leader Praful Patel says the Congress would have "done better" in the Gujarat election if it had formed an alliance with his party.
1.06pm: Congress leaders say the party's improved electoral performance in Gujarat is the result of their new chief Rahul Gandhi's effective leadership, and is the beginning of his political story.
"The Congress' tally has gone up there (Gujarat), while the BJP's numbers have fallen. This is the start of Rahul Gandhi's political story," says senior Congress leader Kamal Nath.
Renuka Chowdary says: "Congress has done brilliantly. Our strength has increased. Morally, it has been a brilliant intervention of Rahul Gandhi."
12.42pm: "It is a matter of happiness for us, this is the victory of development," says Union minister and BJP leader Smriti Irani.
12.39pm: Congress leader Shashi Tharoor says the trends emerging from Gujarat are heartening. "The Congress is leading on some 75 seats, which is good. This is twice better than the last elections.
"What if we could not reach the destination, the journey has been good. And the final tally may even be better than this," Tharoor says outside Parliament.
12.33pm: "People have rejected divisive politics of the Congress. This win is due to the dynamic leadership of the BJP and the workers," says Yogi Adityanath.
12.05pm: Independent candidate Jignesh Mevani wins in Vadgam.
11.43am: The Congress'Arjun Modhwadia loses in Porbandar; BJP's Dilip Sanghani loses in Dhari.
11.26am: The BJP's candidate from Surat's Katargam, Vinu Moradiya, wins. Patidar leader Hardik Patel's rallies were earlier reported to be successful in the area.
11.14am: The BJP's Geetaba Jadeja and Jayesh Radadia win their seats.
10.51am: The BJP's Vijay Rupani wins in Rajkot West.
10.42am: "We will form governments with clear majority in Gujarat and Himachal Pradesh," says Rajnath singh
10.31am: "Ultimately, the BJP is going to register a victory. Contrary to early trends, the BJP is leading almost everywhere now," says Nitinbhai Patel, who is presently trailing by over 2,000 votes.
9.41am: "The mood of the people of Gujarat will lead the Congress to victory. I can't comment much on initial trends; let the final results come," says Gujarat party in-charge Ashok Gehlot.
9.37am: The BJP's Vijay Rupani is leading by 1,800 votes from Rajkot West.
9.25am: The BJP's Nitinbhai Patel is trailing by over 3,000 votes from Mahesana. The Congress' Arjun Modhwadia is trailing by 989 from Porbandar.
9.18am: Sensex is down over 700 points as the early trends in the Gujarat election results are coming in.
9.17am: The BJP and Congress are now tied at 75 seats, according to trends shown by Rajya Sabha TV.
9.02am: The BJP's Vijay Rupani is trailing; Congress candidate in Radhanpur, Alpesh Thakor, is leading.
8.56am: Gujarat election result trends right now: BJP: 90; Congress: 58; Others: 1.
8.48am: Meanwhile, votes are also being counted for the 68-member Himachal Pradesh assembly. Follow our live coverage of the Himachal election results.
8.46am: The latest trends show the BJP leading in 84 seats. The Congress is ahead in 52 seats.
8.42am: Shaktisinh Gohil of the Congress is leading in Mandvi.
8.36am: Trends show the BJP is ahead in 65 seats. The Congress is leading in 44 seats.
8.22am: Early trends show the BJP leading in 25 seats and the Congress ahead in 18 seats, according to Rajya Sabha TV.
8.19am: "Questions being raised about EVMs have already been answered by us in the media. VVPATs were there in every polling stations in Gujarat, which enabled voters to see whom they voted for, so issues being raised aren't right," says CEC, AK Joti.
8.17am: "I assure you that there can be no tampering with the EVMs," says Chief Election Commissioner AK Joti.
8.13am: "Tight security arrangements have been made, police personnel adequately stationed across the region," says Surat police commissioner Satish Kumar Sharma.
8.11am: Initial trends show BJP leading in eight seats. The Congress is ahead in four seats.
8.01am: Counting of votes begins.
7.30am: In 2012, the BJP won 115 seats, while the Congress bagged 61. The Congress' average victory margin stood at 13,577 votes across the 61 seats it won in 2012. Since 1995, the BJP has been in the power in Gujarat.
6.53am: A day before the counting of votes, the Election Commission of India withdrew its notice to Rahul Gandhi over his television interviews in the run-up to the second phase of the Gujarat elections. The EC also said it would set up a panel to review its model code of conduct. Full story.
6.47am: Ahead of Monday's Gujarat election results, both the BJP and Congress are confident of victory. While all exit polls have predicted the BJP's win, the Congress is hopeful of bagging the Patidar vote and overthrowing the Narendra Modi-led party from 22 years of governance in the state. Full story.
6.35am: The BJP is seeking a sixth straight term in office, while the Congress is aspiring to stage a comeback in power after being in the opposition for over two decades.
6.26am: After a gruelling campaign, India's two biggest parties -- the BJP and Congress -- await the outcome of assembly polls in Gujarat and Himachal Pradesh. Here is what the election results in Gujarat and Himachal will mean for the two parties.
6.14am: As the Election Commission prepares to begin the counting of votes in the Gujarat elections, here is a look at what the exit polls predict for Prime Minister Narendra Modi's home state.
6.10am: A total of 977 candidates were in the fray in the first phase of elections, with more than 2.22 lakh people casting their votes. In the second phase, 851 candidates contested.
6.05am: The counting for the two-phase Gujarat assembly elections will begin at 8am and early trends are expected to come by noon.
*Welcome to the Hindustan Times live coverage of the assembly election results for Gujarat. The much-awaited results of the keenly fought elections will be announced today after the counting of votes concludes at 37 centres across Gujarat's 33 districts.
.
Personalise your news feed. Follow trending topics