Gujarat elections: No simmering anger among state farmers
Nov 26, 2022 05:01 AM IST
The sense from across farmlands is that there is no simmering anger that could pose a threat to the incumbent government – despite concerns raised by some groups.
Surendranagar/Rajkot/Morbi: Mahesh Shapar, in his early twenties, dropped out after high school. He saw no reason to invest time and money in studying further since his father owns agricultural land, and he knew that's where his future lay. In the warmth of the winter sun, Mahesh sits guarding his stretch of farmland along the Surendranagar-Ahmedabad highway, distracted occasionally by the rush of notifications on his mobile phone.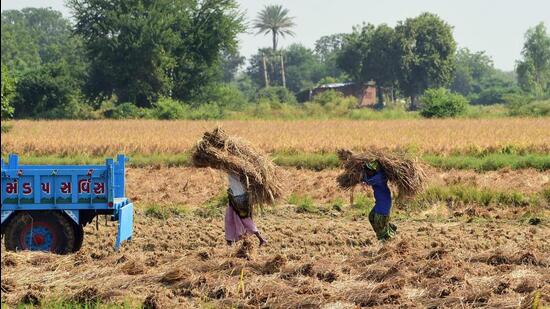 His father's 12-acre farm is among the few large land parcels in their village, and since the family also owns a tractor and has its own borewell for irrigation, they are counted among the prosperous farming families of Shapar village in Sayla taluka of Surendranagar district of Gujarat.
Also Read: What could explain the subdued rural anger in Gujarat this poll cycle?
"We get by comfortably...," he says about the farm income. Their produce – cotton, fennel and maize – fetched good money this year. "During elections, we get good money. This year, we sold cotton for about ₹1,200 per quintal, while the price was between ₹1,000- ₹1,050 last year. This is the government fixed price ( ₹1,200), but we rarely get it," he says.
What bothers him the most is the erratic power supply in the area. "We have a schedule; one week we get about six hours of supply during the day, and the next, it's at night. We are used to it, but it would be better if we got round-the-clock supply," he says.
Across the highway in Baldana Village, also in Surendranagar, Ramneek Bhai, who cultivates fennel and cotton on his three-acre farm, says the government has done its bit by providing Narmada waters for irrigation. But he also raises the power situation as a challenge. "If the farmer misses the supply, there is no way he can water the farm. But the Narmada has made a huge difference to our lives and we only have Modi ji (Prime Minister Narendra Modi) to thank for it," he says.
Anger among the farming community in Surendranagar, as in other parts of Saurashtra, over insufficient water and power and the delay in compensation for losses suffered owing to inclement weather in 2016, saw the BJP's electoral fortunes take a beating in the region.
Of the 48 assembly seats in Saurashtra, the Congress won 30.
This time, the government moved in quickly to announce compensation for farmers when excessive rains left behind damaged crops and harried cultivators.
In October, the state government announced an agriculture relief package for farmers in four districts of Jamnagar, Rajkot, Junagadh and Porbandar, which would provide a compensation of ₹13,000 per hectare for losses caused by the excessive rain.
Irritation, but no anger
These remedial measures have not gone unnoticed, though the freebies – power and farm-loan waivers – being promised by the Aam Aadmi Party (AAP) and the Congress have piqued curiosity. There is a wish list that farmers in the state have, along with a litany of complaints.
But the sense from across farmlands is that there is no simmering anger that could pose a threat to the incumbent government – despite concerns raised by some groups.
"This is a state which produces the highest quantity of groundnut, approximately 40-45 lakh metric tonne. When rain spoils that crop, you can imagine the scale of loss. The government was aware of the implications of the unaddressed issues of the farmers, so they have been quick with the compensation but there are inherent problems that need attention. The Pradhan Mantri Fasal Bima Yojana (the crop insurance scheme introduced in 2016) to compensate for crop losses caused by natural causes has been quietly withdrawn," says Dilipbhai Sakhiya of the Rajkot Kisan Sangh.
While he acknowledges that the crop remuneration has risen and the power and water situation vastly improved in some districts, Sakhiya says disparity in power supply, rising fuel prices, and poor returns for food crops worry him. "The government says, 'look we are giving you more for cotton and groundnut' but look at what we are paying for fertilisers post subsidy, and the diesel. You need to check prices of diesel, gold and dearness allowance for government employees 10 years ago and compare it to what we get paid for the unquantifiable labour we put in growing food and see how little has changed for our lot," he says.
The state government buys crops such as groundnut, pulses, gram, mustard and cotton at minimum support price (MSP).
In Morbi's villages, farmers in the outskirts have similar complaints. They say while cotton prices are soaring in the international market, farmers are not in a position to bargain and are often forced to sell at the prices the "vyaparis" (traders) determine.
"We cannot hold on to our stock and bargain, we need money. So, in spite of MSP and mandis, we are often at the mercy of the vyaparis. There is a need to ensure transparent implementation of MSP," says Laxmanbhai, a resident of Koyli village in Morbi.
But the problems are not nearly as pronounced as they were five years ago.
'Stepped in quickly'
A government functionary said that, despite complaints, the situation is relatively calm because officials on the ground were told to act with alacrity when reports of large patches of groundnut being washed away poured in.
"The excessive rains caused widespread damage and groundnut farmers faced losses in Gir Somnath, Junagadh, Ameli, Surendranagar, Jamnagar and Porbandar, but there has been no delay in providing relief this time," he says, asking not to be named.
According to information provided by the state government, more than 5.7 million farmers in Gujarat received assistance worth ₹12,565 crore through direct benefit transfers in the last three years as part of the PM Kisan Nidhi, and owing to the government support, revenue through agriculture increased from ₹9,000 crore to ₹2,05,000 crore in the last two decades.
It is this rise in income that the government is hoping will tip the scales in its favour.
"In the last five years, the Gujarat government has ensured a steady income for farmers after purchasing ₹45.13 lakh metric tonnes of grain at MSP which was worth ₹22,596 crore from 2.4 million farmers of the state. In the last two decades, electricity connections increased from 733,000 to 1,345,267 and compensation has been increased from 7.5% to 15% to farmers who allow transmission lines and transmission towers to be installed on their fields. Similarly, a 69,000 km-long canal system was laid across the state for irrigation purposes. All of this has resulted in production of fruits, vegetables and spices significantly increasing," the functionary says.
The BJP government's outreach towards the farming community has been designed to pre-empt any traction for the promises made by the opposition parties such as the AAP, which has announced loan waivers of ₹2 lakh for farmers, free electricity for 12 hours during the day, crop purchase at MSP and compensation of ₹20,000 per acre of land in case of crop failure.
The party relies on targeted advertisements and snippets relayed through social media platforms to convey how the promise of farm loan waivers in the opposition ruled states of Punjab, Chhattisgarh and Rajasthan remain "unmet".
And to some extent, these seem to be working. "When Modi promised us water from the Narmada, he fulfilled it. The water in my field is proof of that," says Ramneek Bhai.
Scrolling through this Facebook page, he says, "Today, Rajasthan is getting power from Gujarat… who knows what the others will do."