What could explain the subdued rural anger in Gujarat this poll cycle?
Nov 23, 2022 12:26 PM IST
Unlike 2017, rural anger does not seem to be dominating the campaign in Gujarat in 2022.
Gujarat 2022 is very different from Gujarat 2017. The polls five years ago were preceded by a large Patidar agitation demanding reservations. The Congress, which was the undisputed challenger to the Bharatiya Janata Party (BJP) at the time, made rural distress a big poll issue. And while the BJP managed to win a simple majority in Gujarat, the Congress recorded its best performance in the state since 1985 in terms of seat share. A big reason for the improvement in Congress's seat tally was a strong performance in rural areas.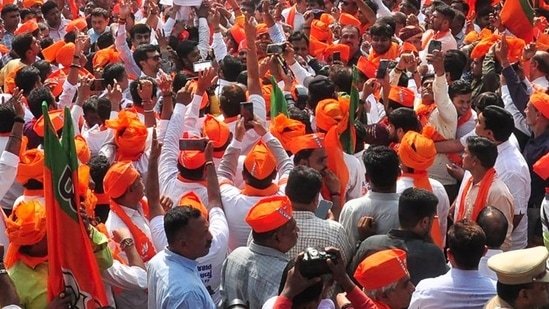 Unlike 2017, rural anger does not seem to be dominating the campaign in Gujarat in 2022. While the BJP has done well to nullify some issues such as Patidar discontent – EWS reservations and poaching of Patidar agitation leaders such as Hardik Patel has helped – there is also an economic explanation why farmers' issues are not dominating the campaign so much.
Overall agriculture growth numbers are dated ...
Official statistics for agricultural growth are only available until 2020-21 for Gujarat. Centre for Monitoring Indian Economy (CMIE) data shows that agriculture and allied activities grew at just 1.1% in Gujarat in 2020-21.
Also Read| 'Russia, Ukraine tanks kept silent for 3 days after Modi's call': Amit Shah
This is significantly lower than the 9.2% figure for 2017-18, which is when the last elections took place. Lack of recent growth numbers leave the question about current state of farm incomes unanswered.
Unlike agricultural growth rate, rural wage data is available for Gujarat until September 2022. An examination of the trend in real rural wages shows that Gujarat is not very different from the rest of India. Real rural wages have been contracting for the past few months at both the all-India level and in the state. This suggests that the rural economy, or at least the blue-collared labour market, is in doldrums. It also perhaps explains the Union government's decision to extend the Pradhan Mantri Garib Kalyan Yojna (PMGKY), which offers an additional 5kg of foodgrain to all public distribution system (PDS) beneficiaries, until the month of December despite considerable fiscal strain. That means we may have to look deeper for the absence of rural anger.
Agriculture in Gujarat is very different from that in most states in the country in terms of the composition of output. For example, while cereals had a 27% nominal share in value of crop production at the all-India level in 2019-20 -- the latest period for which National Account Statistics (NAS) data is available -- this number was just 10% in Gujarat. Two crops, namely cotton and groundnut, play a very important role in the farm economy of Gujarat. NAS data shows that for the period between 2011-12 and 2019-20, the share of these two crops in total value of crop production in Gujarat has been as high as 40% in both real and nominal terms. A comparison of the nominal and real share of these two crops in total value of crop production shows that the former shows a much bigger fluctuation than the latter. This is most likely a reflection of the fact that farm incomes from these two crops are influenced more by volatility in market prices than physical production.
... and prices of both are at an all-time high currently, in sharp contrast to 2017
Commodity price data from CMIE shows this clearly. The per quintal price of groundnut and cotton was ₹5,857 and ₹7,876 respectively in October 2022. This is significantly higher than the October 2017 price of ₹4,150 and ₹4,430, the corresponding period when assembly elections were last held in Gujarat. Lest one gets the idea that the rise in prices of these two crops is just nominal inflation, it is important to underline that October 2017 prices were lower than what they had been in the past for both these crops.
To be sure, it is possible that the cost of cultivation for these two crops could have increased because of high inflation for agricultural inputs. However, it is likely that the nominal boom in prices of two most important crops for Gujarat's farmers has muted the rural anger in these elections. The results from rural constituencies will conclusively prove or refute this argument.
Continue reading with HT Premium Subscription
Daily E Paper I Premium Articles I Brunch E Magazine I Daily Infographics